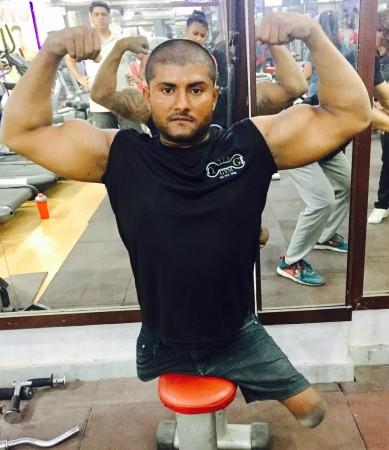 Legless dancer Vinod Thakur, who rose to fame with Nach Baliye and India's Got Talent, collapsed near Malad en route to the Gateway of India while attempting to set a world record of longest wheelchair pushing journey comprising 1,500 km.
Vinod was rushed to Raksha Hospital at Malad on Sunday morning, and is currently in ICU in a serious condition, according to social worker Nevada Putman whose NGO Nevada Putman Foundation is handling Thakur's India Gate to Gateway of India wheelchair journey.
Vinod started his journey on his wheelchair on March 18 from the India Gate at Delhi, covering almost 1,500 km on a wheelchair in a span of 40 days. He was originally scheduled to reach the Gateway of India in Mumbai on April 30.
Dr. Pranav Kabra of Raksha Hospital, who attended to Thakur, said he is suffering from severe dehydration, low BP, irregular heartbeat, and other medical issues due to the strain associated with the 1,500 km wheelchair journey, and is under treatment, according to a statement. Thakur's spokesperson Flynn Remedios said that he is likely to resume his journey May 1 if his health permits.
Thakur is a dancer, performer and stunt master and also plays wheelchair cricket. He was attempting a Guinness World Record in association with the Nevada Putnan Foundation of Mumbai for the longest wheelchair journey.