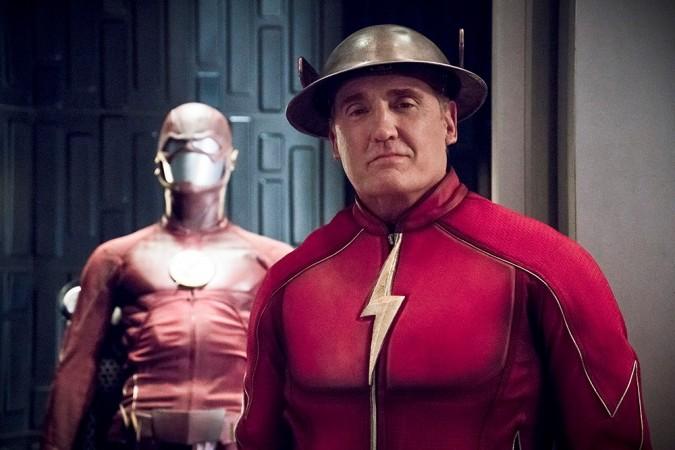 Season 1 of "Legends of Tomorrow" ended with episode 16 titled "Legendary" on Thursday, May 19. Despite the many losses the team suffered during the course of 16 episodes, they managed to defeat the immortal tyrant Vandal Savage (Casper Crump), giving Kendra (‎Ciara Renée) and Carter (Falk Hentschel) a chance at happily ever after.
With the death of Savage, Hawkman and Hawkgirl bid goodbye to the team, but as promised, new members will be joining the team to protect the timeline from worse villains. The Justice Society of America was teased in the Season 1 finale, with Rex Tyler aka Hourman (Patrick J Adams) warning the legends they shouldn't step back on the Wave Rider.
Rex said he was a member of the Justice Society and that he was asked by a version of Mick (Dominic Purcell) to warn them against getting on the time-travelling ship. In the comic books, Rex is a scientist who discovers a miraculous chemical called Miraclo, which he ingests to get Superman-like powers for an hour at a time. However, in the TV show Rex might be turned into a meta-human just so he could pop in and out of "The Flash" easily.
Also Read: Can Flashpoint Roy and Laurel back on "Arrow"?
Speaking of "The Flash," Jay Garrick (John Wesley Shipp), the Flash of Earth-3, is expected to be a part of "Legends of Tomorrow" in Season 2. While it is not certain if he will be a series regular, we do know the spots of Hawkman and Hawkgirl - and Captain Cold (Wenstworth Miller), who is dead in the current timeline - need to be filled. In the comics, he was a founding member of the Justice Society of America and served as its first chairman. However, it is not known how the Earth-3 Jay will fit into the JSA of "LoT."
We will be able to find that out when Season 2 of "Legends of Tomorrow" premieres later in 2016. Based on the fact that "Legends of Tomorrow" generally airs on the Thursdays of the same week as "The Flash" and "Arrow," it is safe to assume Season 2 episode 1 of the CW show will aired on Thursday, Oct. 6.