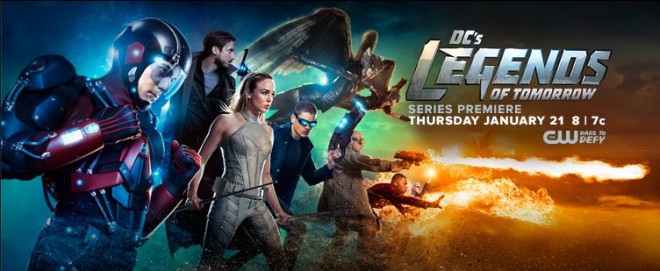 Sarah (Caity Lotz), Ray (Brandon Routh) and Kendra (Ciara Renée), who have been stranded in 1950s Oregon since episode 8 "Night of the Hawk," will finally be rescued in the upcoming "Left Behind," which will be aired Thursday, 31 March. However, their rescue mission may not be as simple as their teammates had hoped.
Fans will remember how the unexpected arrival of Chronos had forced Rip (Arthur Darvill) to escape the Wave Rider with as many of his team mates as he could. Unfortunately, Ray, Sarah and Kendra didn't make it in time. As of the upcoming episode, they have been stranded for almost two years, and have been trying to make do with whatever they can in a more-or-less foreign land and time.
Although Ray and Kendra live on as a couple, with former even becoming a professor, Sarah loses her patience and joins the League of Assassins, the secret society that trained her to become a lethal assassin. When the team returns to take them on board, they will have to convince Sarah to leave with them.
Also Read: Bug-Eyed Bandit leads Felicity back to Team Arrow?
Moreover, they will have to convince the League's then-leader Ra's al Ghul (Matthew Nable) to let her go. Taking the convoluted rules of the League into consideration, it is only logical that the Legends will have to fight the White Canary and force her to join them again.
While Sarah will definitely return to Wave Rider, the return of Heat Wave (Dominic Purcell) and Hawkman (Falk Hentschel) remains a mystery. According to Variety, 16-year-old "Horns" actor Mitchell Kummen has been hired to play a young Heat Wave in the series.
Meanwhile, there is a strong possibility for new characters and new actors to fills the void left by Purcell and Hentschel in the future. "We've got a couple of empty chairs on the Waverider right now, Carter's and Rory's... as long as there's an empty seat — and now there's two — anything's possible," Marc Guggenheim, executive producer, told Variety.
Watch Season 1 episode 9 of "Legends of Tomorrow" at 8 p.m. (EST) Thursday, March 31. You can also live-stream "Left Behind" via The CW Seed and CWINGO.
Related
'Legends of Tomorrow' Season 1 episode 9 promo photos released: Jonah Hex debuts in 'The Magnificent Eight'
No new episode of 'Legends of Tomorrow' Thursday; when will Season 1 episode 9 'Left Behind' air?
Watch 'Legends of Tomorrow' Season 1 Episode 8 live: 'Smallville' Easter Egg revealed; when will Hawkman return?