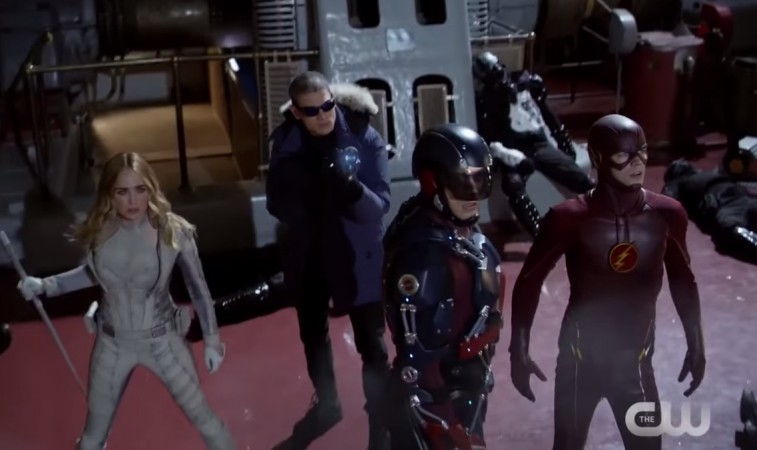 After months of speculations and suggestions, The CW has finally released the trailer for "Legends of Tomorrow", the spinoff series to "The Flash" and "Arrow". The action-packed first look trailer has received very enthusiastic response.
"Legends of Tomorrow" finally reveals what really happened to ATOM (Brandon Routh) in "Arrow" finale after the blast in Palmer Technologies, and if Sara aka Black Canary (Caity Lotz) is still alive.
With "Arrow" and "The Flash", The CW is not short of heroes; it is not heroes that the DC universe wants anymore, but legends. In the hope of creating a team to fight the immortal super-villain, Vandal Savage, a rag-tag team comprising half-heroes, a billionaire, thieves, and a girl with "past-life complex" is created.
During the course of the trailer, it is revealed that ATOM has developed a technology to shrink himself and Sara is alive and kicking after being resurrected from the Lazarus Pit in Nanda Parbat and now goes by the name White Canary. Although it is "Arrow" and "The Flash" that brings them together, their guide in the mission is Rip Hunter (Arthur Darvill), a member of the Time Masters, an organisation tasked with protecting history.
The members of the unlikely team of legends are: ATOM, White Canary, Heat Wave (Dominic Purcell), Captain Cold (Wentworth Miller), Hawkgirl (Ciara Renee), FIRESTORM aka Martin Stein (Victor Garber), and Ronnie Raymond (Robbie Amell), although Amell is not mentioned among the main cast.
Fans are excited about "Legends of Tomorrow", set to make its debut in 2016. As junglehero127 puts it, "Yes!!!! This looks awesome! Can't wait! I mean this, The Muppets, and Supergirl all coming out soon? The future of TV is looking bright! And finally, Atom can actually shrink now!"