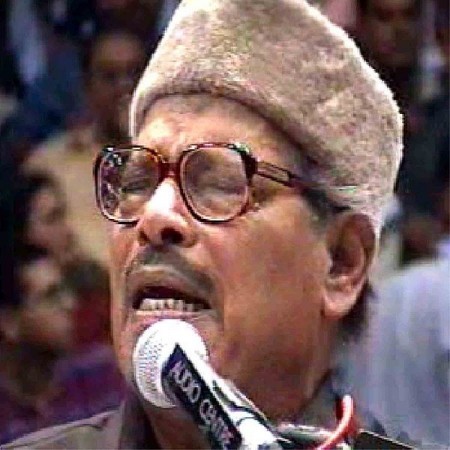 Dadashaeb Phalke Award winner Manna Dey passed away early Thursday at a Bangalore hospital.
Dey, 94 was suffering from respiratory illness and had been frequently admitted to hospital since September.
On Wednesday, he was taken to the ICU at Hrudayalaya in Bangalore, where he breathed his last after suffering a cardiac arrest.
The versatile playback singer has rendered classic hits in many Bengali and Hindi songs along with songs in other Indian languages as well.
Dey, better known for his knack in classical genre proved to be an all rounder as he delivered some of his career's best with varied genre of songs.
From "Mud Mud Ke Na Dekh (Shree 420) and "Laga Chunari Mein Daag' (Dil Hi To Hai) to a groovier "Aao Twist Karein' (Bhoot Bangla), Dey has delivered umpteen number of hits during the peak of his career.
Along with Dadaasaheb Phalke Award (2007), the acclaimed singer was bestowed with the third highest civilian award Padma Bhushan in 2005 and Padma Shri back in 1971.
Early this year, the musician was admitted to hospital with a chest infection and rumours did the round that he had died, however the doctors had denied the reports. Even singers Shreya Goshal and Vishal Dadlani became the subject of Dey's death hoax at that time.
Bengal Chief Minister Mamata Bannerjee had also flown down to meet the recuperating singer.
Dey had been staying in Bangalore with his younger daughter Sumita after the death of his wife Sulochna Kumaran.
He now leaves behind a massive musical legacy, which will be passed on from one generation to the other.
The death of the celebrated singer evoked numerous celebrity reactions.
"In Manna Dey, we have lost a legendary singer. His immortal voice will remain with us forever. May his soul rest in peace," tweeted Narendra Modi.
Veteran actor Shabana Azmi wrote, "Manna Dey had a unique voice. He will live on through his songs Ai Meri Zohra Jabeen/ dil ka haal suney dilwala/ poocho na kaise maine RIP."
Amitabh Bachchan, "Manna Dey, stalwart of the music world, passes away. Flooded with memories and his songs. In particular his rendition of Madhushala," and later added, "At work but shall keep a minutes silence, in Manna Dey's memory on set before we start...!!"
"Manna Dey passes away. His voice shall linger forever R.I.P." expressed filmmaker Mahesh Bhatt.