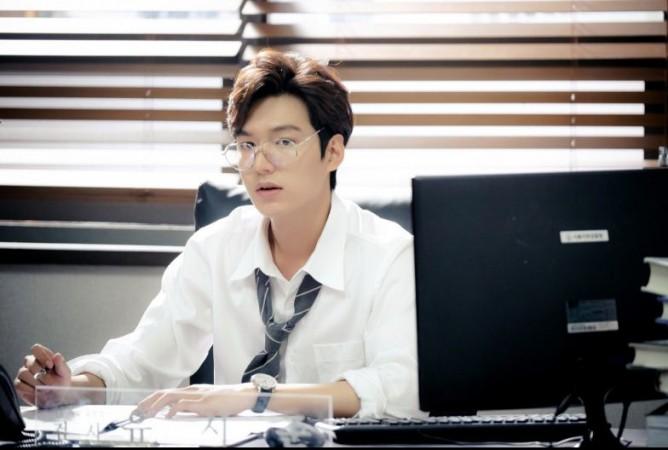 The Legend Of The Blue Sea is lately making a lot of buzz among the Korean drama lovers across the globe with the first look posters of Lee Min Ho. Although there is not much update on the mini-series, fans are delighted to catch a glimpse of the popular actor through official teaser images.
The recently released promotional photos feature the 29-year-old City Hunter star as a hard working prosecutor. While two of the pictures portray him at his desk going through several official papers, another still shows him walking out of the office wearing a white shirt and blue trousers.
Since the actor of Bounty Hunters fame will reportedly play the role of a professional con artist named Heo Joon Jae, it is not clear if the formal look is part of his scheming. However, an industry insider revealed that the transformation of his character from a scamster to an attorney is an important part of the storyline.
Another promotional photo for the new SBS drama is doing the rounds online since October 24. In the picture, the Boys Over Flowers star is being featured as a cover-model on the 11th edition of a fake magazine named Trickster.
The sneak peek image drops several hints on the characteristics of the male lead through various sub headings. While one of the sub-titles read, "No one can fool me. Bad guy, strange guy, even more bad guy," another states, "Welcome, it's your first time meeting a con artist with a Mensa membership right?"
Meanwhile, the production team revealed that Lee Min Ho fans can expect more teaser images of him in the coming days. "We will be consecutively releasing images of Lee Min Ho who has perfectly transformed into genius conman Heo Jun Jae. In the released teaser, there are context clues about Heo Jun Jae, so you can compare them to the upcoming reveal of the story," Soompi quoted the industry insider as saying.
The Legend Of The Blue Sea, starring Jun Ji-hyun as a mermaid, is loosely based on a Korean legend that revolves around the lives of a fisherman and a mermaid. But a major part of the storyline will focus on the modern day, wherein the mermaid decides to live in Seoul as a human and ends up meeting a professional scamster
The period drama is scheduled to premiere on SBS on November 16 and take over the time slot of currently running Gong Hyo-jin and Jo Jung-suk starrer Jealousy Incarnate.