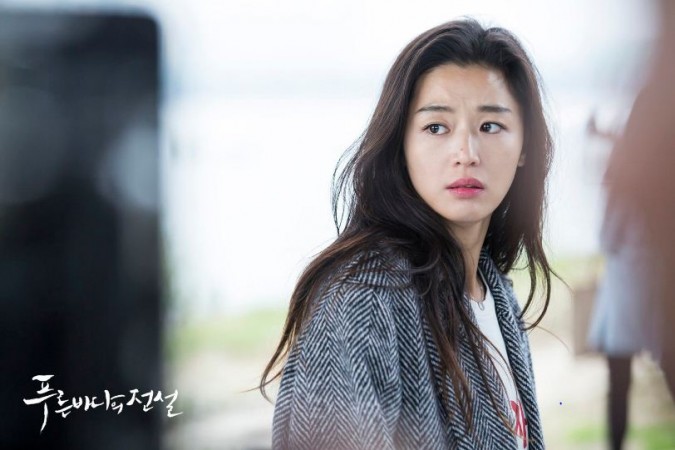 The Legend Of The Blue Sea will be back with another interesting episode next Wednesday, November 30, on SBS. The sequel will continue to feature the love story of Kim Dam-ryeong and Sae Wa along with the struggles of Shim Chung and Heo Joon-jae.
Episode 4 of the period drama took its viewers through a roller coaster of events, wherein the village head risked his life to save the mermaid in flashback sequence. It also revealed that a mermaid cannot go back to the sea if her legs get hurt. The sequel ended by hinting at troubled moments for the conman and his mermaid lover.
The new episode will pick up right from where it left off the onscreen couple and continue to feature the various challenges faced by them. It is not clear how Lee Min Ho's character saved the female lead from the trafficker, who shows up at the door steps on the fateful night. But the trailers show a reunion between the two protagonists.
In the promo for Legend Of The Blue Sea episode 5, Heo Joon-jae tells Shim Chung, "If you don't say anything until tomorrow, then you must leave this place." Although his friends Jo Nam-doo and Tae-O confront him for his harsh decision, he forces her to leave the house.
But before stepping out of the house Jun Ji-hyun's character leaves a message for his lover, which states, "Next time at this time, let's do it on the first day of snow. Let's meet there. I have something to tell you." The video ends featuring her on the streets.
Will the trafficker abduct the mermaid before she meets the conman? If so, will the male lead reach out to save her before he sells her or hurts her leg? The followers of the Korean mini-series will have to wait until November 30 to know more about it.
Meanwhile, speculations suggest that Shim Chung will find out about the whereabouts of Mo Yoo-ran and help her lover to reunite with his mother in the upcoming episode of SBS drama. Watch the trailer for Legend Of The Blue Sea episode 5 below: