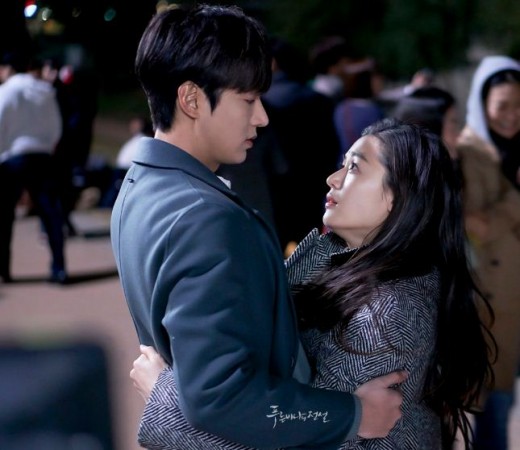 The Legend Of The Blue Sea will be back with episode 12 on December 21 and fans are expecting to watch the reunion of their favourite onscreen couples, Heo Joon-jae and Shim Chung, as well as Kim Dam-ryeong and Se-hwa.
The mermaids in the Korean mini-series suddenly disappeared from their timelines and viewers are wondering what really happened to them. While the golden-tailed mermaid went missing right after saying final goodbye to the village head, the silver-tailed mermaid moved out of the conman's house after revealing her secrets to him.
Since the male protagonists are yet to find the whereabouts of their sweethearts, the followers of the show seem worried about the mermaids' fates. They are eager to know whether the female protagonists have gone back to the ocean or have been hurt by someone.
During the last two episodes, Kim Dam-ryeong kept asking Heo Joon-jae to protect the woman from the bad people and stop things from getting repeated in the future. However, the conman was struggling to figure out if the village head was referring to Shim Chung or his university junior Cha Si-ah. It's only towards the end of episode 10 that he realised that it was Jun Ji-hyun's character.
Will Lee Min Ho's character save his lover from the villains? Watch The Legend Of The Blue Sea episode 11 live online on SBS at 10pm Korean time on December 21 to know more. Until then, watch the first 10 episodes of the period drama online here.
As of now, serial killer Ma Dae-young has been featured as the primary antagonist, but a new villain is likely to be introduced in the second half of the Korean mini-series. Speculations suggest that it could be senior conman Jo Nam-doo as he is determined to find out the hidden secrets of silver-tailed mermaid.
Lee Hee-joon's character is portrayed as a cunning, greedy and selfish person who can do anything for money. So the upcoming episode might feature his evil intentions and betrayal. But since the official trailer and promotional images are yet to be released, fans will have to wait a little longer to find out what lies ahead for Heo Joon-jae and Shim Chung in The Legend Of The Blue Sea episode 11.