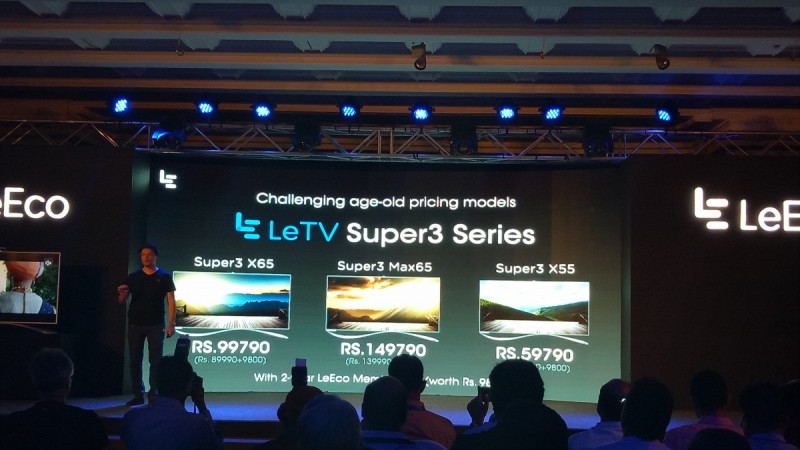 Updates
1:20 pm: The event concludes and the Super3 series is available for media and fans at the experience zone.
1: 13 pm: LeEco Super 3 series will be available exclusively on Flipkart and on LeMall.com with special offers and Rs. 5,000 cashback on all three TV models. Pre-orders begin August 10.
Official pricing:
Super3 X55: Rs.59,790
Super3 65: Rs. 99,790
Super3 Max65: Rs. 1,49,790
1:05 pm: 24x7 call center, 333 service centers at prime locations.
1:00 pm: LeEco Super3 series come with 2 years of standard product warranty. The panel warranty comes with 4 years. The full specs of the TVs are below:
12:57 pm: Jain introduces the first LeSuper TVs in India, the Super 3 Max65, Super3 65 and Super3 55.
12:55 pm: LeEco Super 3 series has metal base for a premium finish. They are powered by 6A928 processor, 3GB RAM and 16GB storage.
12: 50 pm: The Super 3 series offers stunning picture quality with 4K UHD display, has low latency process, wide colour gamut NTSC 85 percent, Periodic Pattern Detail optimisation, Boundary Blur Enhancement, Dolby Audio and dts premium sound, multiple ports, dual Wi-Fi, dual USB 3.0, 3 HDMI ports, Bluetooth 4.0 and more.
12:49 pm: Jain launches Super 3 series in India.
12:46 pm: LeEco SuperTVs come with SuperTVs. There is a special LE Key, which gives shortcuts to frequently used apps, and the TVs come with voice control as well as gesture and motion controls. LeEco aims to sell 15 million TVs combined with Vizio around the world.
12:43 pm: Jain takes over the stage again. Jain introduces EUI 5.5TV otherwise called as Springerfor SuperTVs, which will include Live, LeVidi, LeView, PanoSearch and more.
12:40 pm: LeEco SuperTVs will come with two years of LeEco Membership, which will include abundant content.
12:37pm. Debashish Ghosh, COO of Content Business at LeEco India, takes over the stage to explain how the content ecosystem works.
12: 35 pm: LeEco SuperTVs will receive live updates to improve overall user experience. Jain promises disruptive pricing strategy to be continued in the television space.
12:30 pm: Jain says LeEco has led the industry into the TV 2.0 era. LeEco now brings the TV 3.0 era with open-loop connected ecosystem.
12:20 pm: The event has started. LeEco India COO Atul Jain takes the stage and talks about the achievements and the extent to which televisions have penetrated in India.
12:10 pm: LeEco is playing a video highlighting its achievements across different platforms and categories, including smartphones, content, automobile and television. The event is yet to begin.
11:45 am: LeEco SuperTV launch event is expected to begin at 12:00 noon. There is a lot of excitement at the venue with hundreds of media guests and LeEco fans discussing the new TVs' launch. According to our sources, the new SuperTV range is going to be extensive with features not seen in other televisions in India. The SuperTVs will also feature LeEco's Ecosystem, which will allow users to access a wide range of services, including Eros content, without a cable connection. The television sets will have built-in internet modems to connect to Wi-Fi in order to access all LeEco services, which users have experiences in Le Superphones such as Le 1s Eco, Le 2 and Le Max 2.
Original story...
LeEco is holding a product launch event in New Delhi on Thursday, Aug. 4, where the company is expected to unveil its new range of Super TVs, which will combine premium offering and affordable pricing. The event is taking place at the capital's Hyatt Residency and media registrations are set to begin at 11:30 am, which will be followed by the product launch.
International Business Times, India, will be covering LeEco's TV launch live from the venue and bring updates in real time. There isn't much known about the product itself, but this isn't the first time LeEco is venturing into the television business.
In April, LeEco had launched two 50-inch Super TVs, Super 4x50 and Super 4x50 Pro, in China. We can expect one of the two models to be launched in India at today's event. The Super TV 4x50 was priced at ¥2499, which is approximately Rs. 25,000, and the higher-end Super TV 4x50 Pro was launched at ¥2,999, which is roughly Rs. 30,000. If LeEco manages to keep its Super TV pricing this effective, it will certainly turn many heads.
For the price, the Super TVs are totally worth. Both the televisions feature 4K resolution screen and come with Harmon Kardon audio along with voice recognition support. These are the fourth generation TV models launched by LeEco.
LeEco's Super TVs run Android 6.0 Marshmallow-based eUI 5.8 and feature 3GB RAM. The higher-end model is powered by a Snapdragon 810 SoC and have 3D functionality, while the lower-end model comes with MStar 6A938 processor. Both the TVs have either 16GB or 32GB storage options.
Nothing is confirmed regarding which Super TV is expected to be launched in India. There is also a possibility LeEco might launch one of its older TV series in India.
Note: Latest updates from the launch event will appear at the top of the article.