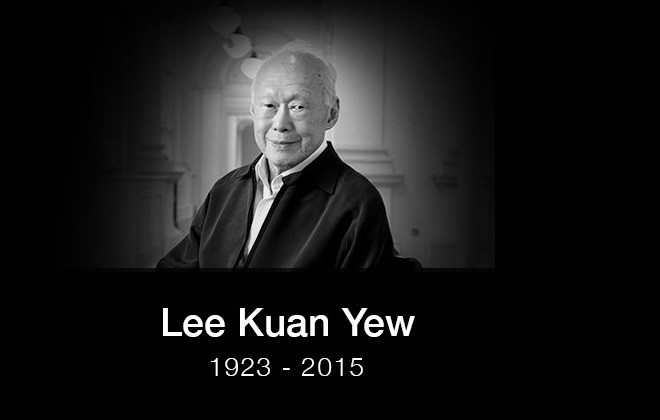 Singapore has announced a week-long period of national mourning to mark the death of the founding father and country's first prime minister, Lee Kuan Yew.
"The first of our founding fathers is no more. He inspired us, gave us courage, kept us together, and brought us here. He fought for our independence, built a nation where there was none, and made us proud to be Singaporeans. We won't see another man like him," Prime Minister Lee Hsien Loong said in his message announcing his father's death.
"To many Singaporeans, and indeed others too, Lee Kuan Yew was Singapore," Loong added.
Prime Minister Lee Hsien Loong has declared a period of National Mourning from 23 March to 29 March (Monday to Sunday).
During this one week, all state flags on all government buildings will be flown at half-mast. Lee Kuan Yew's family will hold a private family wake from Monday to Tuesday at Sri Temasek.
From 25 March, Lee Kuan Yew's body will be kept at the Parliament House till Saturday, where the general public can pay their respects from 10am to 8pm daily.
A state funeral service will be held on Sunday, 2pm, which is will be attended by the deceased leader's family, the President, Cabinet Ministers, MPs, senior civil servants and general public.
After the state funeral service at the University Cultural Centre, National University of Singapore, Lee Kuan Yew's body will be taken for a private cremation at Mandai Crematorium.
The public can express their condolences and share their memories of the late Mr Lee at the official website - Remembering Kuan Yew.
A live feed on Lying in State in Parliament House for Lee Kuan Yew has been set up on YouTube.
Watch Lee Kuan Yew funeral services
A host of Singaporean channels TV channels - Channel 5, Channel 8,Suria,Vasantham and Channel NewsAsia, will be airing events daily starting from 23 March. Besides the daily updates, there also will be special live events, which will be broadcast live.
According to MediaCorp, which owns the largest number of TV,Radio and live streaming channels in Singapore, Lee Kuan Yew funeral services will shown live on all its channels.
Farewell to Lee Kuan Yew, Lying in State Ceremony will be telecast from 25 March to 28 March, while the state funeral service for the former PM and the 'architect of modern Singapore' will be broadcast from 2 pm on 29 March.
The proceedings will be shown "live" on Channel NewsAsia International, and streamed on Channel NewsAsia's Live TV and YouTube channel.
Radio outlets such as 938LIVE, Capital 95.8FM, Warna 94.2FM, Oli 96.8FM, Class 95FM, Gold 90.5FM, 987FM Lush 99.5FM, Symphony 92.4FM, Love 97.2FM, Y.E.S. 93.3FM, Ria 89.7FM, Expat and Radio 96.3 XFM.
The funeral service events will also available via live streaming on www.toggle.sg.
The viewing of the body and other related services for Lee Kuan Yew will be telecast on Remembering Kuan Yew website as well.