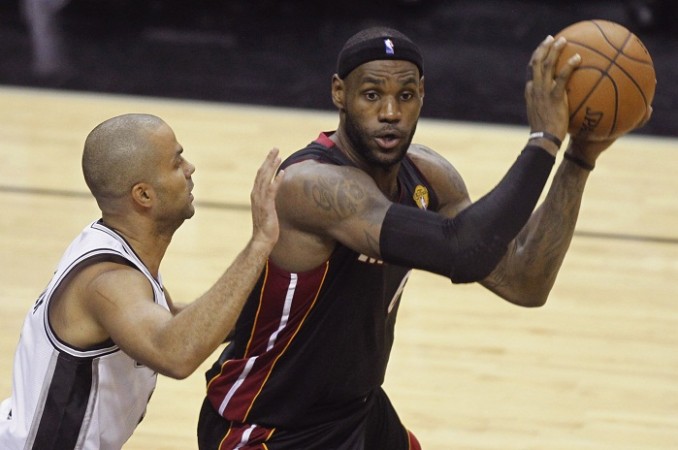 As per results concluded by a recent Harris poll, Cleveland Cavaliers' forward LeBron James has toppled over fellow basketballer Michael Jordan's popularity to claim the first spot as the most popular American male athlete.
In a career spanning 11 years, the Ohio resident finally managed to displace Jordan, who held the top rank last season with James having placed second.
Despite his controversial 2010 move to Miami Heat, which had left his fans and supporters baffled, James impressed one and all by appearing in the finals in all four seasons with them, which won him several new supporters.
He then signed a deal with the Caveliers again last week and considering that the poll had been conducted in June before his signing, he would have probably garnered a higher number of votes for having returned to his former club, thereby trumping Jordan by a bigger margin.
The poll was conducted by an online site, which considered 2,241 votes, with Jordan still proving to be quite popular with the ladies and senior citizens who voted for him in big numbers.
But that was not enough as James garnered enough votes for him to claim the top spot, which is quite a commendable achievement, given how tough a task it is to dethrone Jordan who reigned supreme at the top of the table for nearly 13 years (1993-2005, 2013) and is still considered by many as being the best athlete that America has ever produced.
The list contained names of current and former players where Yankees player Derek Jeter placed second followed by Peyton Manning with Kobe Bryant and NASCAR driver Dale Earnhardt junior tied at the fifth spot.
The same poll also announced Serena Williams as the most popular female athlete, who was followed by NASCAR racer Danica Patrick, Venus Williams, Maria Sharapova and Mia Hamm rounding out the top five.
Here's a complete list of the top 10.
| | |
| --- | --- |
| Harris Poll Ranking | Male Athletes |
| 1 | LeBron James, Cleveland Cavaliers |
| 2 | Michael Jordan, Chicago Bulls (retired) |
| 3 | Derek Jeter, New York Yankees |
| 4 | Peyton Manning, Denver Broncos |
| 5 (tie) | Kobe Bryant, L.A. Lakers |
| 5 (tie) | Dale Earnhardt Jr., NASCAR |
| 7 | Tom Brady, New England Patriots |
| 8 | Tiger Woods, Golf |
| 9 | Drew Brees, New Orleans Saints |
| 10 | Aaron Rodgers, Green Bay Packers |
| | |
| --- | --- |
| Harris Poll Ranking | Female Athletes |
| 1 | Serena Williams, Tennis |
| 2 | Danica Patrick, NASCAR |
| 3 | Venus Williams, Tennis |
| 4 | Maria Sharapova, Tennis |
| 5 | Mia Hamm, Soccer (retired) |
| 6 (tie) | Lindsey Vonn, Skiing |
| 6 (tie) | Billie Jean King, Tennis (retired) |
| 8 (tie) | Alex Morgan, Soccer |
| 8 (tie) | Chris Evert, Tennis (retired) |
| 10 | Misty May, Beach Volleyball |