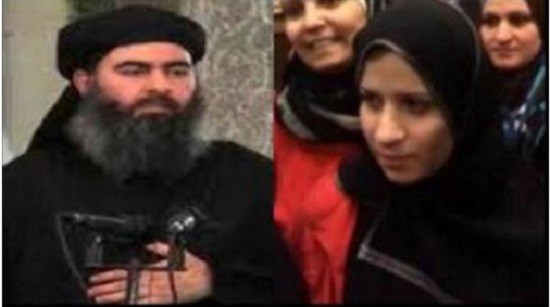 Reports from the Lebanon's interior ministry indicate that the woman arrested by its security forces was married to ISIS leader Abu Bakr al-Baghdadi briefly for three months, after which he divorced her.
In a statement, the Lebanese Interior Minister Nohad Machnouk confirmed that "Saja al-Dulaimi married three times and Baghdadi was her second husband for three months, six years ago."
A Reuters report noted that this is the first time that the Lebanese government has spoken publicly on the arrest of the women. It has also been revealed that the woman was arrested along with her daughter and not son.
Dulaimi was detained in northern Lebanon after she was found with a fake passport, following which a Lebanese security official pointed out that her arrest was "a powerful card to apply pressure" in negotiations to obtain the release of 27 members of the Lebanese security forces seized by ISIS in August.
However, this is not the first time that Dulaimi and her relationship with Baghdadi have grabbed headlines. Back in July reports had claimed that the woman, along with her children and younger brother, were released by the Syrian government in exchange for the ISIS-captured nuns.