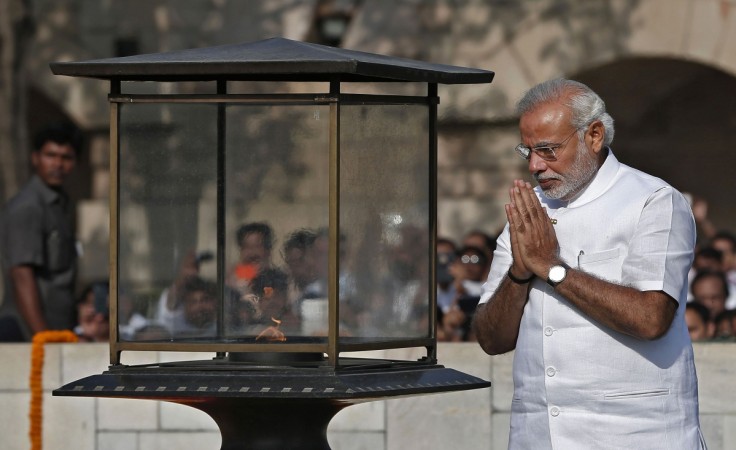 At least four chief ministers are going to skip the oath-taking ceremony of Narendra Modi, who is taking charge as the 15thprime minister of the world's largest democracy at the forecourt of the presidential palace Rashtrapati Bhavan at 6 pm on Monday, 26 May.
Modi rose to power by riding on the plank of all-round development of the country and giving good governance to the people, which, he claims, has already been proved in Gujarat for more than 12-years.
Though Modi took potshots during his poll campaign against Congress on development issues, he did not made any offensive individual remarks against any leaders.
However, several chief ministers in the country including Siddaramaiah, Chief Minister of Karnataka are likely to miss Modi's anointment as the prime minister of the country, say media reports. Siddaramaiah belongs to Congress party.
Both the chief ministers -Jayalalithaa of Tamil Nadu and Mamata Banerjee of West Bengal are likely to skip the oath-taking function of Modi. Both the CMs have their own reasons for this.
Jayalalithaa is not attending the function as she condemns the invitation extended by the Modi-led Bharatiya Janata Party (BJP) to Sri Lanka President Mahinda Rajapaksa. In an open statement, the Tamil Nadu Chief Minister has stated that the invitation to Rajapaksa is against the sentiments of Tamil people.
Jayalalithaa and other political parties in Tamil Nadu have expressed their oppostion on the invitatiton extended to the Lankan President. The Tamil politicians accuse Rajapaksa government of killing innocent civilians during the war against LTTE, the organisation which fought against the State for a separate eelam or nation for Tamil population in the island nation.
Vaiko-headed Marumalarchin Dravida Munnetra Kazhagam (MDMK), despite being an alliance partner of BJP, has announced protests both in Delhi and Chennai against Rajapaksa's presence at the oath-taking ceremony.
On her part, West Bengal Chief Minister Banerjee has even asked her party Trinamool Congress MPs not to attend Narendra Modi's swearing-in function at Rashtrapati Bhavan in Raisana Hills. The Chief Minister herself is planning to skip the function and instead plans to send her ministers-Amit Mitra and Mukul Roy to represent the state.
Congress chief ministers Siddaramaiah and Oommen Chandy of Kerala have cited pre-scheduled official programmes as the reason for not attending the ceremonial PM-oath-taking function.
Chandy's office in Thiruvananthapuram said that Chandy has received the invitation to attend Modi's function. But the officials have informed Modi that the Kerala CM is unable to attend the function due to his "pressing engagements" in the state. The officials added that Chandy will meet Modi in his next visit to Delhi.
BJP has termed Chandy's skipping of the function as "unfortunate."