At least three people were killed and over 100 sustained injuries when an Amtrak passenger train derailed in Washington state on Monday, December 18, and spilled over onto a highway. The train was on its first-ever run along a new route between Seattle and Portland.
The Amtrak Cascades train number 501 had 78 passengers onboard along with five crew members. Images from the scene show two bogies completely tumbling over onto the highway below, while two were left dangling from the overbridge.The cause of the derailment is yet to be ascertained and the National Transportation Safety Board said it a team of its investigators have already left for the spot.
While three passengers lost their lives, the Pierce County Sheriff's Office told the Associated Press that there were no fatalities among the motorists.
Speaking of the derailment, Chris Karnes, who was on the train, told the agency: "I'm not sure what got hit. I'm not sure what happened. The only car that is on the tracks is the rear locomotive. There are several cars that are hanging over the overpass." He also revealed that it sounded like an aluminium can being crushed "and then we were not on the tracks anymore."
Meanwhile, another person spoke of the derailment and told CNN: "We were catapulted into the seats in front of us."
Amtrak too confirmed the derailment and said that the company would provide all the support the passengers onboard needed. "On behalf of everyone at Amtrak, we are deeply saddened by all that has happened today. We will do everything in our power to support our passengers and crew and their families," Amtrak President and co-CEO Richard Anderson said in a statement.
After the incident, Donald Trump, during a briefing, also expressed his sympathies and "most heartfelt prayers for the victims." He said: "We are closely monitoring the situation and coordinating with local authorities."
Rescuers revealed scary details of the accident scene and said they have to climb into the train using ladders to pull out people. "They (the train passengers) had broken out one of the emergency exit windows. They had blood streaming from their heads. A lot of them had hip or back injuries and respiratory troubles." News.com.au quoted Daniel Konzelman, who was driving on the highway when the train derailed, as saying.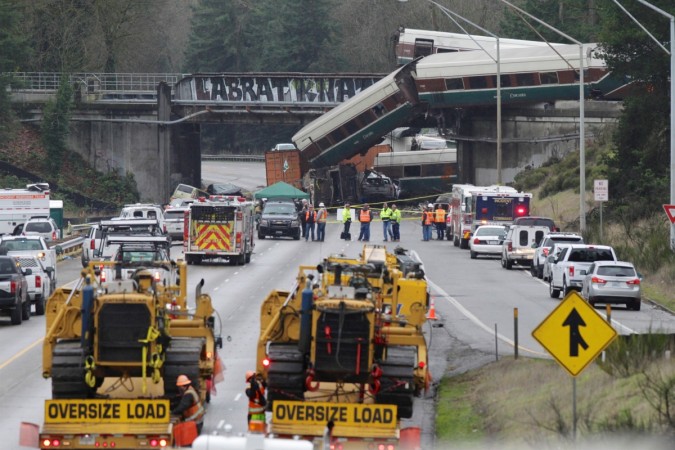 "I just wanted to help people because I would want people to help me. I'm an Eagle Scout. I have a lot of first-aid training and emergency response training. I prepared for the worst and hoped for the best. I saw a little bit of both," he added.
Meanwhile, Lakewood Mayor Don Anderson told the Seattle Times that he knew the route was dangerous and had opposed to it earlier as well. "I didn't predict a time, but I did say somebody is going to get killed," he said. "I hoped that wasn't right. We thought a train-vehicle collision was virtually inevitable."