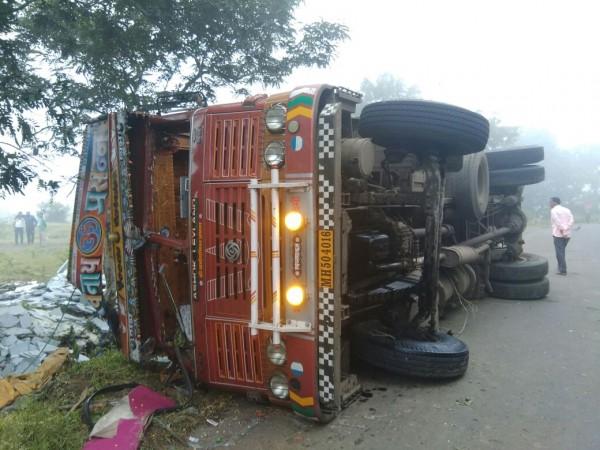 At least 26 people are feared dead as a truck in Gujarat's Bhavnagar district toppled and fell into a drain on Tuesday morning. The Gujarat Chief Minister Vijay Rupani has announced compensation fo RS 4 lakh to the families of the deceased.
Around 60 people were celebrating a wedding party inside the truck when the vehicle lost control on Ranghola bridge on the Rajkot-Bhavnagar highway, according to reports. At least 20 died on the spot.
One of the police officials, K.J. Kadapda told AFP, "Around 60 persons were travelling in the truck and most victims are women and children."
While the total number of casualties is yet to be ascertained, ANI reported that at least 26 are feared dead so far. Meanwhile, the rescue teams are using cranes to lift the victims from the drain. The fire brigade rushed to the spot to carry out the rescue operation.
Guj CM @vijayrupanibjp has announced Rs.4 lakh ex-gratia each for the kin of those killed in the tragic road accident near Ranghola on Rajkot-Bhavnagar highway and also directed the concerned authorities to extend all possible help to the injured and family members of the victims

— CMO Gujarat (@CMOGuj) March 6, 2018
The injured persons are being rushed to the hospitals in Gujarat's Botad and Bhavnagar for treatment, the police said.
Meanwhile, here is a tweet having numbers of concerned blood donor groups shared on Twitter.
Prime Minister Narendra Modi expressed condolences to the families of the deceased. Meanwhile, many people on Twitter also expressed grief and prayed for the bereaved families.
PM @narendramodi expressed deep anguish over the painful road accident near Ranghola of Bhavnagar district of Gujarat. He expressed deep condolences to the families of the dead in this unfortunate accident and wished the wounded people to recover quickly.

— Narendra Modi Office (@namo_office) March 6, 2018
Dishearten about the accident happened in Bhavnagar. My consolation to family members of victims. Prompt actions have been taken.@narendramodi Ji prayed for faster recovery of injured along with Immediate Reports has been asked by @vijayrupanibjp Ji for reviewing the situation

— Dr Rutvij Patel (@DrRutvij) March 6, 2018
#Gujarat CM Vijay Rupani announces Re 4 lakhs compensation for families of 20 people who lost their lives in a bus tragedy in #Bhavnagar-Rajkot highway tdy, the dead were part of a marriage procession that was returning in a bus that overturned into a dicth

— Lakshmi A (@LakshmiAjay1) March 6, 2018
Deeply aggrieved to know so many people have lost lives in #Gujarat's #Bhavnagar when the truck carrying them fell into a drain. My heartfelt condolences to the bereaved families. May they find the strength to face this tragedy. https://t.co/injYDiv56P

— Ashok Gehlot (@ashokgehlot51) March 6, 2018