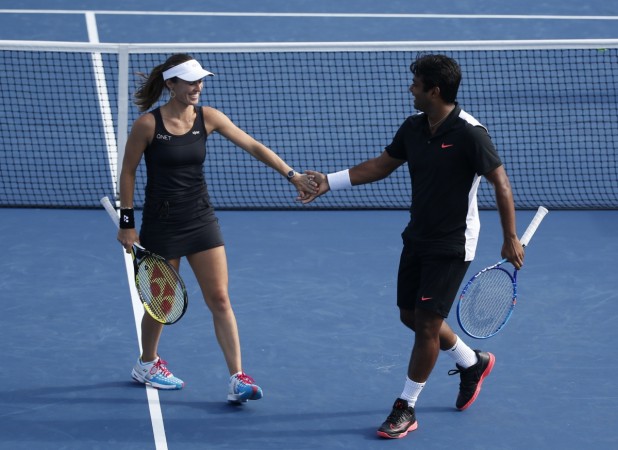 Leander Paes and Martina Hingis won their incredible third mixed doubles grand slam of the year after defeating the US pair of Bethanie Mattek-Sands and Sam Querrey in the finals on Friday.
The Indo-Swiss pair, who won back-to-back grand slam mixed double titles, lost the second set, but the pair were not perturbed as they put up an amazing show in the super tie break to clinch the match and showcase their dominance in the competition. The match score read - 6-4, 3-6, 10-7.
Paes and Hingis, who are aged 42 and 34 respectively, despite their age, have plenty of energy in them and remind us of their younger days, when they were equally brilliant. Paes and Hingis, after deciding to form a pair, have been a treat to watch as they seem to be enjoying their time on the court.
Irrespective of the match, the Indo-Swiss pair seems to play pressure free tennis, which is evident in their smiles on the court.
"When we go out there and play for an hour, we are generally getting in a block of four or five hours of quality in that one hour, and it's not necessarily at our age of doing it so many years day in and day out. It's not the quantity that matters. It's the quality of that quantity that matters," said Paes.
"What I try to bring to the team is the energy, happiness, the fun, and throw the pressure on my shoulder. Martina just swings away and has fun with it."
Paes has been leading from the front in all their grand slam matches as he is one of the best doubles players in the circuit, if not the best. The Indian legend has an amazing reflex, which helps him win crucial points and his game at the net is second to none.
Paes has always been a gutsy player and never shies away from taking impossible looking shots. It is such gutsy effort, which has helped Paes win a number of titles in the past as well.
"One thing I do have is the guts. I will go for it. It's been part of -- my whole life is about perseverance, just trying to find a way to succeed. Sometimes the chips are against you; sometimes they fool you," he added.
With the mixed doubles competition only held during the grand slams, one is amazed to see the deep-rooted chemistry between Paes and Hingis on the court. They just seem to having fun in the court, but one cannot take away their quality of practise, which has helped them become a formidable pair.
"It's so interesting that actually sometimes I have a reputation of not wanting to practice so much, but it's because the quality of practice is so good I don't have to do the same number of hours as others," added Paes.
Hingis was all praise for Paes, who won his ninth overall mixed doubles title. The Swiss ace believes that she has never had a partner like Paes, who protects her in the court no matter what.
"I have never had a partner as thoughtful of me, backing me up, as Leander. That's like he just said, first thing, he's like - what he said - make me happy. Do everything that I can to support you as a partner, and I know that 100%. Like if I do my things right, he's always going to protect me, no matter what I do. Just don't strategically do the wrong thing and I know I will be protected," said Hingis.
"That's the biggest safety he gives me when I play my -- whether it's serve, whether the volleys, but positioning on the court and the understanding is no one like Leander. Never played doubles or mixed doubles or whatever -- I have never crossed anyone who thinks just like me."
Paes and Hingis' only failure this season came during the French Open when they lost in the round of 16. However, they will be delighted to win all other grand slams of the season –Australian Open, French Open and the US Open.
What next? A calendar grand slam, may be.