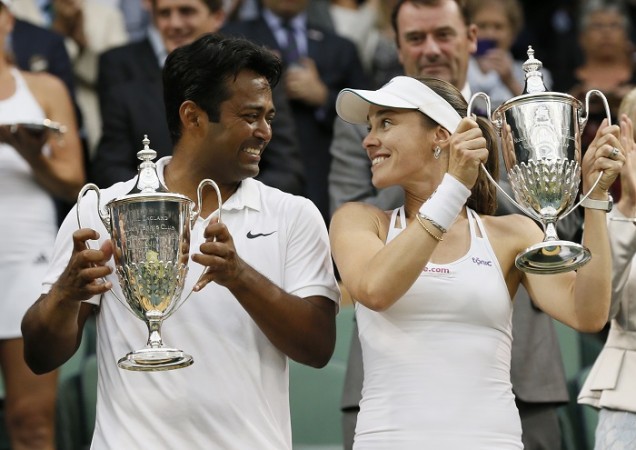 Leander Paes' career depends upon his performance in the Rio Olympics next year, the ace tennis star's father Vece Paes has said.
The 42-year-old Indian tennis legend has been turning the clock after registering impressive wins in recent years. From clinching the mixed doubles titles with Martina Hingis in the Australian Open to the Wimbledon, and the US Open this year, Leander has been on quite a roll.
But his career might come to an end, according to Vece, if Leander doesn't get to put on a bright display in the Olympics next year, ultimately paving the way for his retirement.
"If he does well at the Olympics then there would be reason for him to play longer. If he does not do too well at the Olympics, then the chances are that he would probably retire," Vece told IANS in an interview.
"But that is his choice! We have not really discussed it. He is working on his game this year and then we go to next year and then we will see what happens," he added.
Paes Sr. also revealed that Leander has hopes to take part in both the men's doubles event and the mixed doubles event under the Indian flag in the Rio Olympics.
While Leander would be interested to continue his ongoing partnership with Rohan Bopanna in the men's doubles event, the 42-year-old is keen to partner Sania Mirza once more for the mixed doubles event.
Leander had also partnered Sania in the 2012 London Olympics.
"He hopes to play in the 2016 Rio Olympics with Rohan Bopanna in men's doubles and with Sania Mirza in mixed doubles. That's the plan so far," said Vece.
Leander could make his seventh Olympics if he features next year in Rio. The 42-year-old played for the first time in the Olympics at the 1992 Barcelona Games, and he still remains the only Indian to win an Olympic medal in tennis - a men's singles bronze in the 1996 Atlanta Games.