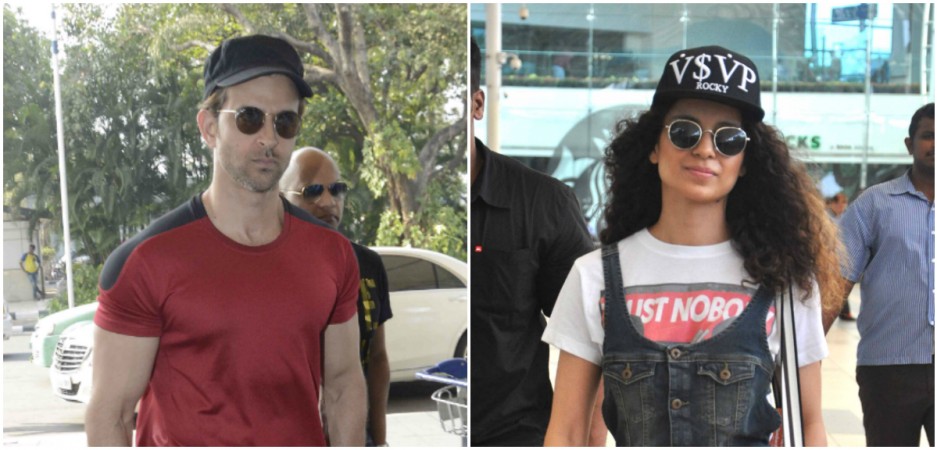 After a series of private emails from Kangana Ranaut's ID to Hrithik Roshan got leaked, some more emails have come up that show a completely different picture. While the previous emails from Kangana's account were emotional in nature, the actress appears to have threatened Hrithik in the latest leaked email.
In this leaked email published in Bollywoodlife, Kangana seems to be alleging Hrithik of hacking into her email ID and threatened him of dire consequences if he does not stop hacking into her email account. The concerned email from Kangana's ID is full of abusive language.
Mail from Kangana's ID to Hrithik on Nov. 19, 2014: "tu abhi bhi mera mails check kar raha hai. Dumbo meri hariyanvi tutor roz aati hai aur mein roz ek se ek galiyan seekh rahi hoon. Toh tu pange mat le nahin toh sari umar ke liye scar ho jayega. Koi therapy nahin chalegi, deewaron pe sir patakta milega.
"aur vaise bhi bevkoof jab mujhe pata hai tune mera account hack kiya hai toh main koi personal confidential communication mail ke through kyun karungi? dumb a** kya dimag mein bhusa hai kya tare? kyun time waste kar raha hai? apni aukat ki koi ladki dekh aur wahan dimag laga. zayada unche sapne mat dekh.
"mere ghar ke bahar line hai, acheche khason ko appointment nahin milti, tujhe ek charity project samjha tha, lekin jise khadde se nikalo wahi tumhe khadde mein dhakel de wah!! kya baat hai!! kyun aur baezzat hona chahta hai. chup chap bhool ja sab aur dafa ho, stop checking my mails, nahin toh maine kaha na sari umar keliye scar ho jayega [sic]."
In two other emails from Kangana's ID to the "Mohenjo Daro" actor, the actress is seen expressing her sadness at not receiving any attention from her love interest. The email also mentions Kangana making a complaint to the cyber crime department for her email account being hacked.
Email from Kangana's ID to Hrithik on Aug. 22, 2014: "why don't you mail me baby? You don't talk to me at all. as a lover I never get any attention from you but you have cut all the ties with me as a friend also. can't you even text me and say hi or say thanks for my response to your song. you didn't come for my b'day you never talk about my work or even that fact that I exist. you propagate priyanka, deepika, sonam's work, why such a partiality with me? [sic]."
Email from Kangana's ID to Hrithik on Sep. 6, 2014: As per your suggestion I have complained in the cyber crime department and that took all the data from my mail account, when and how its being accessed and they are going to get in to the depths of it, they will find out who is this person who is accessing my mail. So everything is going to be ok :). [sic]"
Meanwhile, Hrithik has recently met veteran film-maker Mahesh Bhatt and narrated him the story, asking the latter to give him some advice that will help him come out of the messy situation. "Well, I think Hrithik has been talking to a lot of people. Frankly, I don't happen to know him personally or professionally. I only know him cordially as he happens to be an industry star and Rakesh Roshan's son. But yes, I did meet him as he wanted to seek my wisdom on how he should handle this delicate situation he finds himself in," Mahesh told SpotboyE.