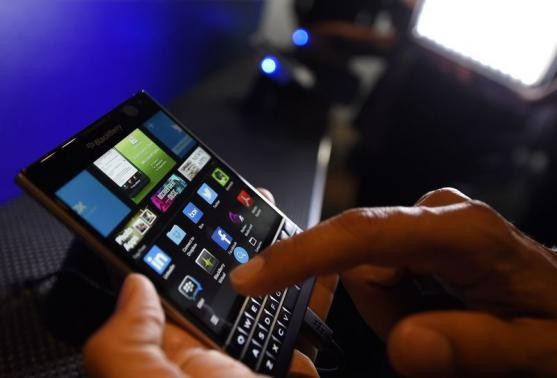 BlackBerry's new device Oslo has been leaked online. The unannounced device looks almost identical to the BlackBerry Passport, though with minor changes, based on the images leaked by N4BB.
Multiple images of the rumoured BlackBerry Oslo give a closer look at the front and rear side of the device. The images show a flat, aesthetic look, with rounded edges and a textured rear cover, just like in the company's Z3 smartphone. N4BB speculates the handset features a steel frame with silver plastic and is mainly targeted to attract customers in the EMEA and APAC regions.
In terms of specs, the BlackBerry Oslo is expected to be powered by 2.2GHz MSM8974 Snapdragon processor and the latest OS 10.3.2. The 13-megapixel primary camera will be borrowed from the Passport, along with 3GB RAM and a 3,450mAh battery.
It is entirely unclear why BlackBerry is releasing a successor to its Passport smartphone, which is idential to its predecessor, but it is nice to see Oslo as a redesigned version of the Passport, than as a sequel.
BlackBerry's former co-chief executive Jum Balsillie admitted that the company, which was then Research In Motion, had no chance of survival against Apple's iPhone in 2007. The competition forced the company to make a handset that was not on par with its rival at the time, referring to the BlackBerry Storm.
"With Storm we tried to do too much. It was a touch display, it was a clickable display, it had new applications, and it was all done in an incredibly short period of time and it blew up on us," said former Research in Motion co-CEO Jim Balsillie, according to The Associated Press. "That was the time I knew we couldn't compete on high end hardware."
But the company's woes continued, even as its rivals such as Apple, Samsung and other Android OEMs were growing. Corporate users, who once favoured BlackBerry, turned to Apple iPhones and Samsung Galaxy flagships. The BlackBerry Passport was aimed at bringing back its corporate customers, so it is quite fitting to see the company try and build on the handset with similar square design.
There is no concrete evidence if and when the BlackBerry Oslo will be released. It would be therefore premature to talk about price.