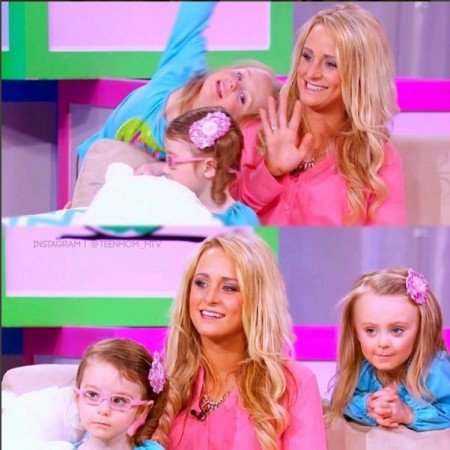 It feels like 2016 will be a good year for Leah Messer. The reality TV star was recently granted shared custody of her six year old twin daughters -- Ali and Aleeah -- after she managed to prove that she is a responsible mother.
This latest news has made the "Teen Mom 2" star incredibly happy, US Weekly quoted a source as saying.
"Leah is doing great. She had confidence that she would be proven right and get her custody rights back."
According to the publication, the personal trainer will spend Thursday to Sunday with her daughters. Her ex-husband Corey Simms will have the kids for the rest of the week. Furthermore, Corey and Leah will share the costs equally while they are still co-parenting Ali and Aleeah.
In an October 2015 ruling, the West Virginia native lost primary custody of her daughters to Simms after it was alleged that Ali and Aleeah showed up in school looking tardy. This was only one of the several allegations made against her. Corey Simms claimed that Leah suffered from prescription drugs addiction as well. However, Leah has maintained that the evidence was untrue.
In an interview, she said, "I talked to the superintendent and I'm sending them the [time-stamped] pictures I took to prove the girls were not tardy. They're going to take them off."
Leah, who underwent therapy for anxiety and depression in 2015, will now get to spend more time with her twins.