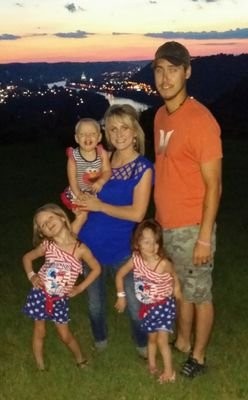 "Teen Mom 2" stars Leah Messer and husband Jeremy Calvert are reportedly getting divorced amidst allegations that she cheated on him with her ex boyfriend.
Reportedly, Calvert changed his relationship status to "divorced" on Facebook on Friday, shortly after sending accusatory tweets to his wife about sleeping around with Robbie Kidd, the same ex boyfriend she had slept with while engaged to her first husband, Corey Simms. Messer and Simms separated six months later.
"Well that was a surprise kinda [you] did it to Corey and now me with the same person good job slut," he wrote on Twitter. "Yea I don't give a f--k done protecting [your] ass good luck. Caught ya bitch," Calvert wrote, hinting that he caught his wife red-handed.
However, the messages have since been removed.
Messer has not responded to the news that they might be getting divorced. But she did address the cheating allegations, tweeting: "I never cheated on my husband and he knows that... there was a rumor and he believed it but it's ok."
This year has not been going well for Messer, who is currently involved in the custody battle of her twin girls -- Ali and Aleeah - with her first husband Simms. The pressure has been too much for her to handle, that she even resorted to taking anxiety pills, which made her feel like a druggie.
In an episode that aired in July, Messer was seen telling her husband Calvert that she hated being on drugs, as it made her feel loopy.
Meanwhile, earlier this year Messer noted that divorce wasn't an option for the couple.
"I truly believe that Jeremy is the best thing that's ever happened to me and my girls, and I really think we can overcome anything," she told In Touch Weekly. "We're doing our best to fix our relationship. We've had problems, but Jeremy and I promise each other every day that we're never going to give up. In the end, I feel like that's what marriage is all about," she said at the time.