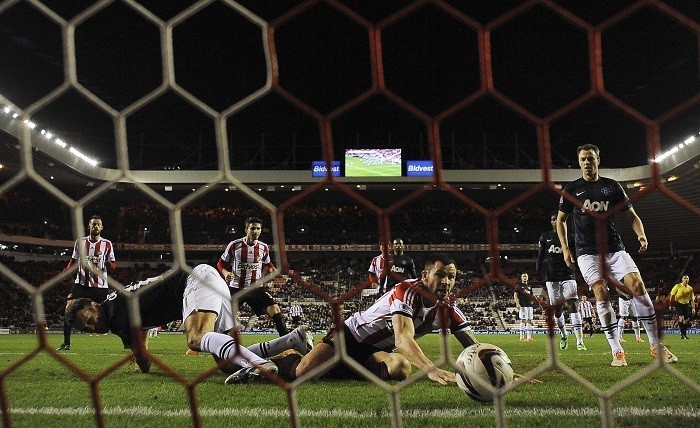 Sir Alex Ferguson made putting pressure on the referee, and eventually getting 50-50 calls - even ones with a much lesser percentage -- go his way into an art. If the last few games are anything to go by, it seems like David Moyes is following in his great predecessor's footsteps, just not with the same effect.
After blaming the referee for the defeat to Tottenham in the English Premier League on New Year's Day, Moyes yet again held the man making the decisions on the pitch culpable following Sunderland's 2-1 win over Manchester United in the Capital One cup semifinal first leg at the Stadium of Light.
United went a goal down just before halftime courtesy an own goal from Ryan Giggs, but Moyes felt the freekick that preceded the goal should never have been given.
"He [referee Andre Marriner] gave a freekick for the first goal which I couldn't believe," Moyes said. "Maybe I've got to understand that's what happens at Manchester United, but certainly not much is going our way.
"We looked the most likely to score, but how the referee gave a foul for Jonny Evans and [Steven] Fletcher challenging for the ball, I just don't know.
Moyes was also adamant about Sunderland's winner - scored by Fabio Borini from the penalty spot - with referee Andre Marriner pointing to the spot after consulting with his assistant for a challenge on Adam Johnson by Tom Cleverley.
"The linesman gives it, but he can't see through Patrice Evra. The referee is looking directly at it, he's in a very good position, and he actually turned away when he [Adam Johnson] went down.
"Yet, the linesman who can't see it gives the decision. I just think it's incredible, especially when you think that we didn't get a penalty against Tottenham [when Hugo Lloris challenged Ashley Young], so it's hard to take."
While some of the decisions certainly haven't gone United's way - a lot of the fans will call that Karma for the amount of times the Red Devils have seemingly been on the right end of questionable refereeing decisions -- one thing that Moyes cannot hide, even if he is doing his best to do just that, is the fact that this side just haven't performed to potential - three losses in a row, two of them at home and the other to the bottom club in the English Premier League, is unthinkable for a club of United's stature.
This after all is a team that romped to the Premier League title last season, but right now United are playing like a mid-table team, at best.
"I've been here before and done it before," Moyes added. "I just sense that it's on the verge of turning, we're about to get a bit better. You need a little bit of good fortune to go for you, and it looks as if we're not getting enough of that at the moment.
"I can sense in the dressing room that there's an urge to fight our current position, and we're looking forward to the second leg now.
"If you're going to be in this job you've got to win, and the last few games I've not won. It's part of football management. It's never going to be an easy ride. To be the manager of Manchester United is a big challenge, whether it's on the back of wins or defeats."
United might well go on and win comfortably at home in the second leg against Sunderland, and with it seal a final at Wembley. But the sooner the "Chosen One" sorts out his team's problems, defensively as well as in attack, the better; because if United continue to play like this, and Moyes keeps on moaning about the lack of decisions from the refs, a place in the top four of the Premier League will look like one of those dreams that when you wake up, you just can't catch, no matter how hard you try.