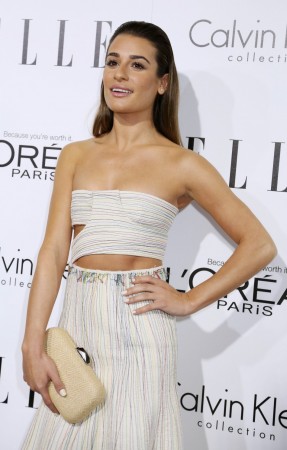 Lea Michele recently suffered a shocking wardrobe malfunction while shooting for her new song "On My Way". The "Glee" actress ended up showing a lot more skin than she had imagined. Michele's pink bodysuit slipped accidently from her bust area leaving her assets on full display. However, she immediately covered herself up to avoid further embarrassment.
Michele was seen dressed in blue denim shorts, pale pink top and an open tunic, which featured fringes and embroidered flowers. She had her hair in thick curls and looked fresh faced in minimal make-up. "On My Way" is Michele's second song from her debut album "Louder" and she was having much fun on the sets. She was seen dancing around with her friends and cozying up to the male model.
Michele was unfazed by the brief wardrobe malfunction and she shared multiple pictures on her Instagram from the shoot. One of the pictures featured Michele's stylist and BFF Estee Stanley and her other close friends. Known Hollywood manicurist Jenna Hipp shared the photo on her Instagram account and wrote, "This was one of my favorite days EVER!!!!! So happy to be a part of this beautiful shoot with #LeaMichele!!"
Apart from the pink body suit, Michele was also seen in a plunging white top, which she coupled with hot pants and a black monokini.
Giving regular updates to her fans Michele tweeted,
"There was ZERO phone service in the desert!!! So I promise to post pics tomorrow!!!!"
"Today was SUCH an incredible day shoot my #OnMyWayMusicVideo! I can't wait for you guys to see it!!!!!"
After losing her boyfriend Cory Monteith last year, most of Michele's songs seem to be inspired from him. In "On My Way " she sings about the guy she cannot leave.
"And my heart's too drunk to drive / I should stay away from you tonight/ But in this blacked out state of mind/ Baby, all I want is you tonight," she coos. "When my head tells me 'no'/ My heart tells me 'go'/ So I'm hitting the road tonight/ I know my heart's too drunk to drive/ But I'm on my way to you, " she croones.
(ED:VS)