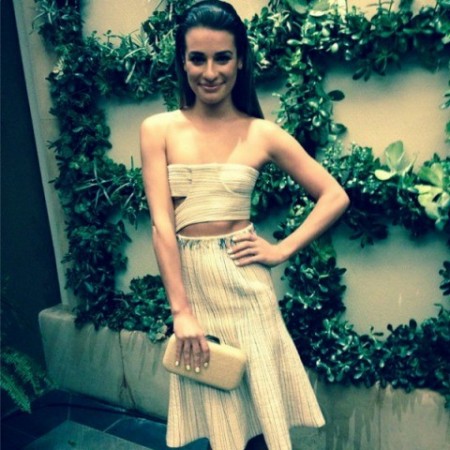 Lea Michele is looking thinner than ever. Sources reveal ever since Cory Monteith passed away, the actress has not been eating well.
It's not easy losing a loved one and the sudden death of Cory Monteith came as a shock not only to the whole film fraternity but also his girlfriend and "Glee" co-star Lea Michele. While the actress is trying hard to show a brave face, her frail body at 'ELLE' magazine's Women In Hollywood celebration on Oct. 21 portrayed a different story.
According to a HollywoodLife report, sources have told the tabloid that the "Glee" actress has not been eating well since Cory Monteith's passing.
"They want to make sure that she will eat, since that has rarely occurred since the news of his passing," the source told the website. "She is not being left alone because they want to be by her and make sure she has a good base of people for support."
The actress has just returned after spending the weekend with a few friends in San Francisco.
"Back from an amazing weekend in SF with these boys!" she wrote. "So grateful for such amazing friends."
Apart from her weight loss, the media was quick to grab pictures of Michele wearing a diamond ring. Immediately, speculations that the deceased actor may have proposed to Michele before his untimely death started doing the rounds. However, a source confirmed to E!News that the diamond sparkler is not an engagement ring.