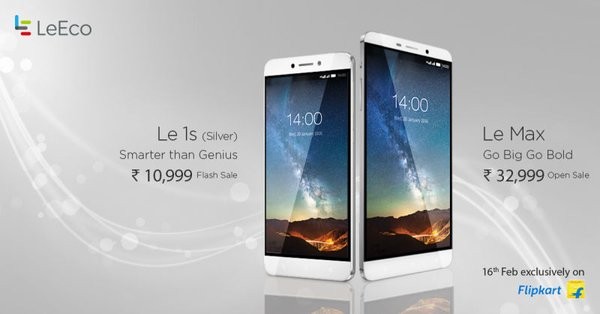 LeEco would offer a new colour option for its best-selling Le 1s in the upcoming flash sale on Flipkart on Feb. 16. The Chinese electronics manufacturer will also begin selling its flagship Le Max smartphone in India on the same date exclusively through Flipkart.
LeEco Le 1s will be available in silver next Tuesday, replacing the gold variant. Registrations for the upcoming flash sale are open till 11 am on Feb. 16. The company claims to have broken flash sale records in India with highest number of registrations and largest number of phones sold in the shortest span of time. LeEco said it received 95,000 buy orders in just 20 seconds of the opening of the Le 1s sale on Feb. 9, which had more than 10 lakh registrations.
The Le 1s silver variant will be sold at the same price as that of the gold variant for Rs 10,999. LeEco will also sell its Le Max without registrations on Flipkart on Tuesday, giving an opportunity to buyers looking for a high-end smartphone experience.
We reviewed Le 1s and found the device snappy and worth its price. It is one of the few devices in the market that offers features such as fingerprint scanner, metal body and USB Type-C connector at a sub-Rs 15,000 range. Although there are some shortcomings such as voice call quality and slight heating at extensive usage, it is not entirely out of LeEco's scope to fix that by releasing appropriate software updates.
Read: LeEco Le 1s Review
For Le Max, it will be the first time the handset will go on sale in India. The handset was launched alongside Le 1s on last month. It features a 6.33-inch WQHD display with 2560x1440 pixels and 464ppi. The Le max has a full metal design, 21-megapixel primary camera and a 4MP front camera. The high-end dual-SIM smartphone is powered by a 2GHz octa-core Qualcomm Snapdragon 810 chipset, 4GB RAM and comes in 64GB or 128GB variants.
LeEco Le Max has a 3,400mAh battery with fast charging tech and USB Type-C connector. The fingerprint scanner appears on the rear side of the device.
During the open sale, Le Max will be available in silver for 64GB variant and in gold for the 128GB model. The 32GB Le Max will be available for Rs 32,999, while the 128GB variant costs Rs 36,999.