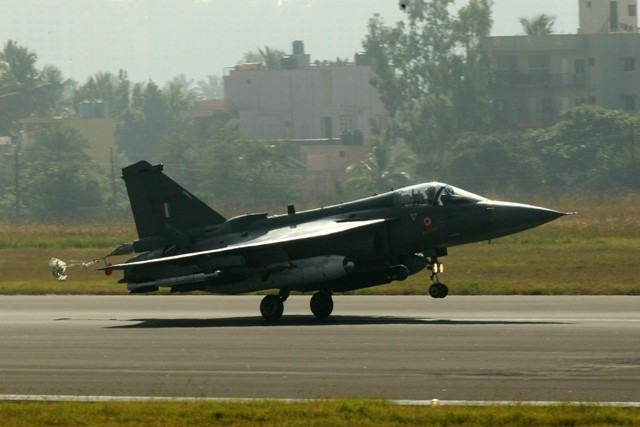 The Indian Air Force (IAF) seems to be satisfied with the way Light Combat Aricraft (LCA) Tejas is taking shape, and is likely to go for 100 modified versions of the indigenous fighter aircraft that is yet to get the final operation clearance. Even as the IAF and defence analysts have raised the issue of India facing shortage of the required strength of 44 fighter squadrons.
In an Economic Times report, a modified LCA Tejas is better poised to take on the Sino-Pakistan collaboration of JF-17 fighter jets with the Pakistan Air Force. Pakistan had previously said that it has already found a partner country to export its JF-17 fighter jets.
The new order of 100 LCA Tejas jets will add to the older order of 20 such jets, but with the modifications, that will be an improvement over the currently testing LCA Tejas. The modified ones have been dubbed as the LCA Tejas Mark-II versions, which will include Active Electronically Scanned Array (AESA) radar, Beyond Visual Range (BVR) missiles, air-to-air refuelling and electronic warfare (EW) capabilities.
These aspects will not only edge out Pakistan's current JF-17 fighter jets but will also augment this indigenous jet's survivability.
The report stated that IAF will rejig its procurement plans in tune with the new order, following the activation of the modified LCA Tejas jets by Hindustan Aeronautics Limited (HAL) in the next 11 years, with the IAF getting 120 odd of these new fighter jets.
Also, the LCA Tejas is expected to fill the vacuum that will be created when IAF's Mirages, Jaguars and Mig-29s will get ready for their retirement in 10 years, noted a defence ministry official.
He also said that following the assurances from both HAL and Aeronautical Development Agency (ADA) on the "design and development" of the modified version of LCA Tejas, IAF will take a call on placing orders for 100 jets. But this will happen only after the delivery of the previous order of 20 jets, the report added.