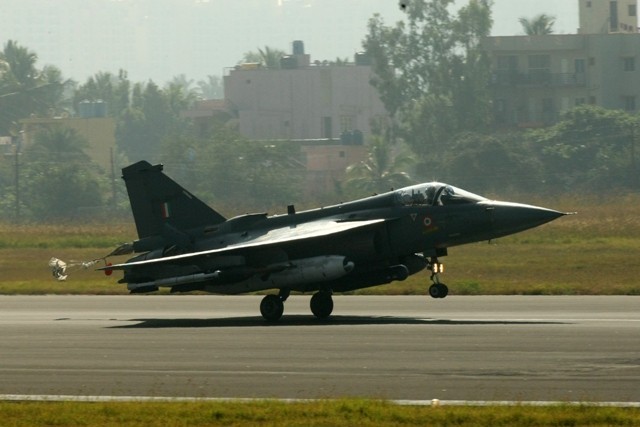 Indian Defence Minister Manohar Parrikar on Tuesday told the Rajya Sabha that the Defence Research and Development Organisation (DRDO) has been making "all possible efforts to increase indigenous content in its products," according to a press release.
Though it is well known that not everything in the LCA Tejas, the indigenous multi-role light fighter aircraft being developed by the Hindustan Aeronautics Limited (HAL), is indigenous, Parrikar said that the aircraft uses about 40% of imported content.
The LCA Tejas is currently undergoing tests and is expected to get the final operating clearance (FOC) sometime soon.
India's indigenous main battle tank Arjun has 55% imported content. The tank, developed by the DRDO, was bogged with several delays and weight issues. The Indian Army has inducted about 124 tanks and has ordered over 100 Arjun tanks of advanced generation than the earlier ones.
The BrahMos, the supersonic cruise missile in the Indian arsenal that is being developed as a venture between India and Russia, has the highest percentage (65%) of imported content in the list provided by Parrikar.
Next to the BrahMos in the import content percentage is the long range surface to air missile (LR-SAM), a project being co-developed with Israel Aircraft Industries (IAI) for the Indian Navy. LR-SAM has 60% of import content.
However, it was also noticed that the Parachutes made by the DRDO are not dependent on any imported content.
Here is the percentage of import content that some of the major indigenous platforms from the DRDO have:
Prithvi missile – 15%
Agni missile – 15%
Akash missile – 10%
Nag missile – 30%
Pinaka Multi Barrel Rocket System – 10%
Lakshya, Pilotless Target Aircraft (PTA) – 5% to 10%
Airborne Early Warning & Control (AEW&C) System (excluding Aircraft) – 16%
Combat Free Fall System – 35%
Radars – 10%