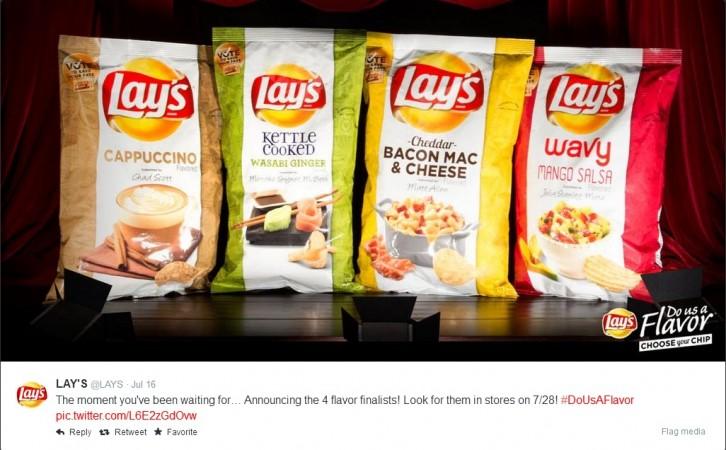 Wake up and smell the coffee-flavored chips!
Lay's potato chips officially announced the four finalists of their #DoUsAFlavor campaign on 16 July and the winning flavors of this season are: "Cappuccino" submitted by Chad Scott from Las Vegas, "Kettle Cooked Wasabi Ginger" by Meneko Spigner McBeth, "Cheddar Bacon Mac & Cheese" by fire-fighter Matt Allen, and "Mango Salsa" by Julia Stanley-Metz from Sacramento, abc news reported.
Lay's first launched their "Do Us A Flavor" contest last year, offering $1 million to the person who comes up with a winning chip flavor, which was "Cheesy Garlic Bread Potato Chips." The campaign became so huge a success that they did it again this year.
On 14 January, comedian Wayne Brady, famous for his work "Who's Line is it Anyway," helped Lay's launch #DoUsAFlavor campaign by giving passionate and witty musical renditions of the various recipes entered for the contest on their YouTube channel.
Here is one on "Melody's Hot Burning Ballad":
Wouldn't Hot N Sour be yummy as a chip? vote for my flavor inspired by Chinese Hot & Sour soup. http://t.co/IiNBmvhXCI #DoUsAFlavor
— Donna LA (@bkindngood) April 6, 2014
Wouldn't Chocolate Bacon Delight be yummy as a chip? Submit your own idea now! http://t.co/NWi3OtYQBB #DoUsAFlavor See Rules.
— Addrienne M. (@zippy573) April 5, 2014
Wouldn't Jack Daniel's Smoky Barbecue be delicious as a chip? vote now! http://t.co/1oyxXulILW #DoUsAFlavor See Rules. — Sto-ik The Poet (@StoikThePoet) April 5, 2014
Cinnamon Marshmallow Sweet Potato. *mic drop* http://t.co/lKvyiwLktc #DoUsAFlavor See Rules.
— Tiffany Lexus (@mstiffanylexus) April 5, 2014
#DoUsAFlavor season is quite exciting for the millions of Lay's fans all over the world. Chris, who is a self-proclaimed teen entrepreneur and inventor from Atlanta, Georgia, in fact decided to submit not just a flavor, but four new series of chips; the "Garden Bounty", "Dessert Series", "Alcohol Spectrum" (for the college kids) and finally the international culture chips or the "Global flavor series."
I have a proposal. I want to pitch my FLAVORS as a SERIES, rather than individuals. @LAYS @PepsiCo #DoUsAFlavor http://t.co/1b1GhQi7Um
— Chris (@InventaChris) April 23, 2014
"Even though we could only pick one grand prize winner last year, the millions of delicious ideas submitted by fans demonstrated that we have only begun to scratch the surface of the possibilities we could bring to the snack aisle," said Ram Krishnan, vice president of marketing, Frito-Lay. The three runner-up finalists will each win $50,000 in prize money with the grand prize winner taking home $1 million or one percent of their flavor's net sales (whichever is higher) for the period 1 July 2014 through 1 July 2015.
Chad Scott, a visiting lecturer and Ph.D. student, excited by his win and invitation to be interviewed by the crew of Good Morning America, tweeted out a picture of his appearance in GMA.
I've been selected as a finalist for the Lay's Do Us A Flavor contest. #lays #dousaflavor #gma... http://t.co/7kMnayCI8E
— Chad Scott (@chadleonscott) July 16, 2014
You can vote for your favourite flavor here from 28 July until midnight of 17 October 2014.