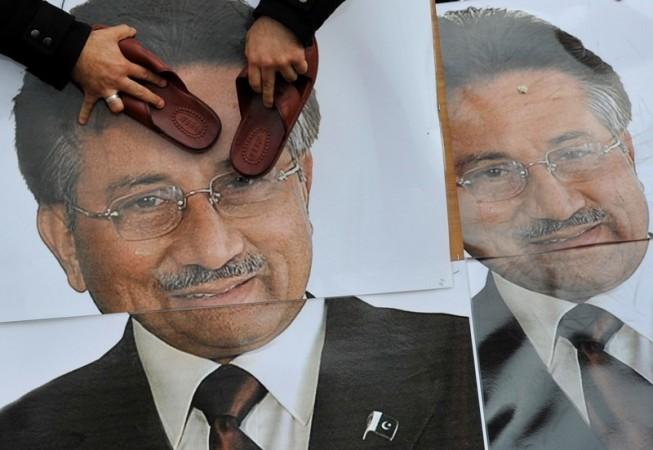 Barely a week after former Pakistan President General Pervez Musharraf's return to his country, protestors have already launched an attack on him.
When Musharraf arrived at the Sindhi High Court (SHC) amid high security on Friday, an angry protestor hurled a shoe towards him. The protestor, however, missed his target and the shoe fell a few feet in front of the ex-millitary leader who was later escorted safely from the court. The situation in the court complex was chaotic with angry protestors shouting slogans against him.
The protestor, identified as lawyer Tajammul Lodhi, was later arrested by Pakistan Rangers. It was said that there were heated arguments between Musharraf's supporters and protestors.
This is not the first time the 69-year-old former president has been a victim of shoe attack. Another similar incident happened in Britain in 2011.
According to Dawn.com the SHC granted protective bail to Musharraf for three cases in he faced arrest warrants. A single-judge bench, headed by Chief Justice Mushir Alam, had issued protective bail to him in the case of 'illegal confinement' of 62 judges after he declared a state of emergency in Pakistan in 2007.
Another two-member bench headed by Justice Sajjad Ali Shah approved protective bail to Musharraf in two more cases for two weeks in which he was facing non-bailable arrest warrants. The cases are regarding the murder of former governor and chief minister of Balochistan, Nawab Akbar Bugti, in August 2007 and the assassination of former Prime Minister Benazir Bhutto in a gun-and-bomb attack in Rawalpindi in December 2007.
The SHC granted Musharraf an extension of protective bail by 15 days in the Benazir Bhutto assassination case and Akbar Bugti murder. The court ordered him to go to Rawalpindi and Dera Bugti to get bail confirmation from the relevant courts.