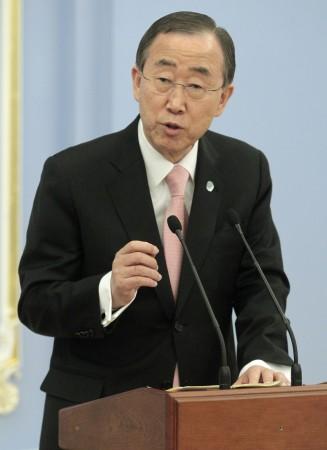 Secretary General of the United Nations, Ban Ki-moon has said that equality for all people includes sexual minorities, adding laws that criminalise same-sex relationships are violative of fundamental rights and "breed intolerance."
"I am proud to stand for the equality of all people - including those who are lesbian, gay, bisexual and transgender. I speak out because laws criminalising consensual, adult same-sex relationships violate basic rights to privacy and to freedom from discrimination. Even if they are not enforced, these laws breed intolerance," AFP quoted Ban Ki-moon as saying in New Delhi on Monday.
Moon was referring to India's colonial-era law – Section 377 of the Indian Penal Code – that bans gay sex or homosexual acts in India. Section 377 was introduced in 1861 when India was under the British rule, AFP added.
The statement assumes significance in the context of sports and youth affairs minister Ramesh Tawadkar in BJP-ruled Goa saying homosexuals would be given training and medicines at treatment centres to help them become "normal".
The Delhi High Court in 2009 declared Section 377 as unconstitutional and repealed it, saying it is against fundamental rights. However, the Supreme Court restored it in December 2013, saying the onus of repealing the law lies with the Parliament, not judiciary.