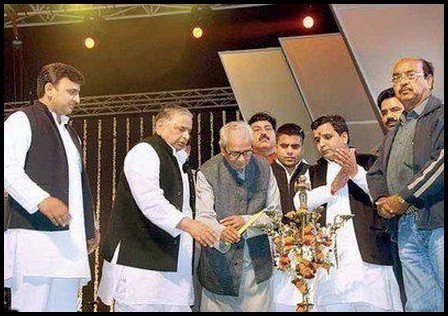 After the Uttar Pradesh government allegedly blacked out two new channels in the state on Tuesday, Chief Minister Akhilesh Yadav has been facing criticism within the political cadre.
Television news channels Times Now and India News were unplugged by cable operators in UP, allegedly on informal government orders.
According to the channels, they were 'attacked' by the Akhilesh government for criticising him in the coverage of 'Saifai Mahotsav', on which the state government spent ₹20 crore at a time when victims of the Muzaffarnagar were suffering at relief camps.
A cable operator told Times Now that the two channels were blocked following phone calls from 'higher-ups'.
"This is clearly an attempt at muzzling the media because the Akhilesh Yadav government isn't pleased with the coverage. Such state-sponsored intimidation has no place in a democracy; it is unacceptable and must be resisted. The government must immediately withdraw its verbal instructions to cable operators to black out these channels. Further, it should be made to pay damages to the affected cable operators and TV channels for having illegally disrupted their businesses," Times Now said in a statement.
However, SP leader Rajendra Chaudhary has denied the allegations saying, "Why will we shut down news channels, we have always respected the media. Everyone knows that SP and its leaders are the greatest supporters of democracy.
Latest Reactions
Prakash Javader, BJP spokesperson: We condemn the closure of certain channels in UP. This is an emergency mindset, SP government is answerable
SundhindraBhadoria, BSP: People of UP are fed up of SP government's suppressing policy, want freedom from SP rule at the earliest. It's like martial law has been imposed in UP, such is the behaviour of Akhilesh Yadav.
Vijay Pathak, UP BJP spokesperson: SP government must answer whether its technical error or has government stopped broadcasting of few channels, its undemocratic
Arnab Goswami, editor of Times Now: "The cable operators have not given any specific reason for the blackout. We have also asked the Akhilesh Yadav government to investigate the reason behind the sudden and unexpected blackout. Times Now is an independent and bold channel. It has been showing SP government's MLAs' junket and the Saifai Mahotsav. This blackout is a direct attack on democracy.
Manish Tewari, I&B minister said, "The ban is reprehensible and uncalled for. We will take action if the channel complains to us. The complaint will be considered on merit, and if any illegality is found, we will take strict action against the erring MSOs (multi-system operators)."
Nirmala Sitharaman, BJP spokesperson: The right of citizens to information cannot be denied. It (the blackout) is probably because Times Now stood up to the outrageous developments in UP