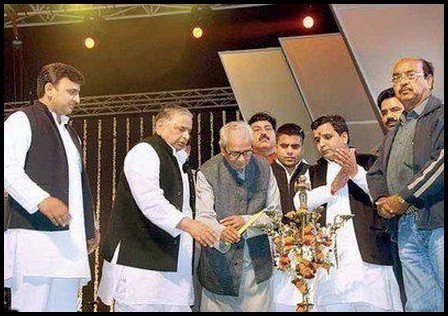 Despite criticisms, Uttar Pradesh CM Akhilesh Yadav attended the performances of Bollywood stars Salman Khan, Alia Bhatt and Madhuri Dixit at 'Saifai Mahotsav' on Wednesday night.
According to a CNN IBN report, the Yadav-led SP government spent a whopping ₹20 crore to entertain SP ministers, leaders and family guests, while victims of the Muzaffarnagar riots suffered in the cold.
"CM spending so much money on his programs, he could have spent money on our rehabilitation," a Muzaffarnagar riot victim told ANI.
Another such victim complained about the weather saying: "Its very cold. Already my only son died due to this. The CM only thinks of himself not for us."
Due to the incessant criticisms received by the UP government, the organizing committee chairman Dharmendra Yadav, barred reporters with cameras from the show to prevent live telecast.
Below are some latest Reactions to UP government expenditure on Saifai Mahotsav
Digvijaya Singh, Congress leader: "The SP government has its own way of working, but sensitivity, of course, is missing."
Nirmala Sitaraman, BJP spokesperson: "Plight of riot victims in relief camps is sad, especially as ruling party is having celebrations."
Rajendra Chaudhary, SP leader: "For last 10 days we also had sports and cultural programs in Saifai but the opposition is only talking about Bollywood stars."
Shivanand Tewari, JDU: "People have the right to know what and where the government is spending. You (SP government) should avoid such unfavorable behavior. This should not have happened."
Gurudas Dasgupta CPI: This is most unfortunate. This is absolutely improper to say the least, what they are doing. The people who are there in the camp must be given all amenities so that they return and live a human life