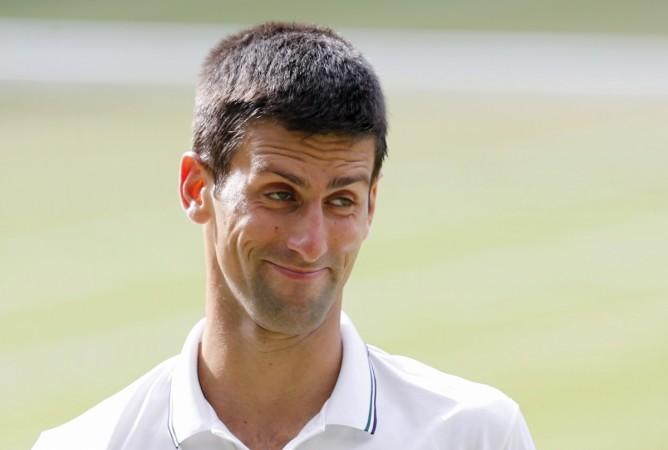 World no 1 Novak Djokovic made an appearance on the "Late Show with David Letterman" for an interview, which discussed topics that varied from growing up in war-torn Serbia to his great rivalries with Rafael Nadal, Roger Federer and his chances in the 2014 US Open, beginning next week.
Speaking about being inspired by the Pete Sampras-Andre Agassi rivalry, Djokovic said Agassi revolutionised the game in so many different ways - from playing techniques to dressing up.
The Serb stressed that technology has now changed the sport completely and the game now has more speed, strength, control, power and acuracy. The game has also become more physical these days.
Djokovic also spoke about the dangers he faced as a child, growing up in war-torn Belgrade and how that shaped him.
"I appreciate things in life and I value everything I have because of the past I had, Serbia had two wars and I have gone through all that and it was really tough," Djokovic said. "We stayed together as people and as family and it made us stronger.
"The experince has been a big part of my mental strength and ability to cope with big moments in my tennis career, with the pressure and expectations and so forth."
The 27-year-old also spoke about his preparations and chances for the year's last Grand Slam and and his 'out-of-body experience' during his epic Australian Open final with Nadal.
While discussing his preparations for the US Open, Letterman complimented Djokovic's physique.
"You look to be in tremendous physical condition," the talk show host pointed out. "Are you?"
"Are you asking me to take off my shirt now?" Djokovic replied with a laugh as the audience clapped and hooted.
"If you'd be more comfortable, then go ahead," Letterman responded.
Djokovic will look to reclaim the US Open title, which he won in 2011. He finished second in the last two years, losing to Andy Murray and Nadal respectively.
The Serb is not the only tennis player to feature on the show ahead of the US open. American Serena Williams will be a guest on the show today.
Meanwhile, Djokovic also completed the #IceBucketChallenge to #StrikeOutALS in the funniest way. He challenged Michael Jordan, Mr Bean (Rowan Atkinson) and Austrian singer Conchita Wurst, before performing the task.
Johnny Mac, @niallofficial, Bernard & @sabinelisicki thank you for nominating me for #ALSIceBucketChallenge ACCEPTED: http://t.co/kIyIuTE7wi

— Novak Djokovic (@DjokerNole) August 19, 2014
"I'm proud to donate and be part of this great movement to defeat the disease," Djokovic wrote on Faceook post.