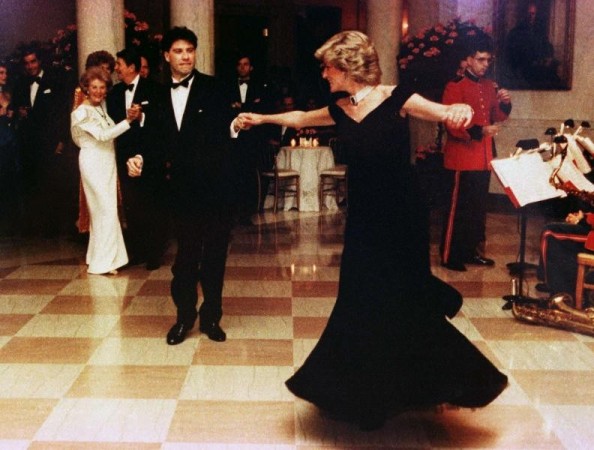 A gown wore by Princess Diana while dancing with actor John Travolta in White House fetched a whopping ₹1.68 crore (£240,000) at an auction recently in UK.
Designed by Victor Edelstein, the off-shoulder velvet gown mersmerised those present when the she was on the dance floor with the Hollywood fame during her visit to the US in 1985.
Auctioneer Kerry Taylor said, "It was bought by a British gentleman who said he wanted to buy it as a surprise to cheer up his wife. I hope that the sale has really made someone's day."
She added that the new owner of the gown, which reached the top price of the sale, was a "lucky woman."
The 'Fit For a Princess' auction made a total of ₹60.73 crores (£862,800). Two dresses made by the late Princess' favourite designer were auctioned for ₹1. 47 crores.
Bidders came from as far as Australia and the US, but there were British buyers for several of the dresses, including an "important" museum which bought two gowns - something Taylor said she was particularly pleased about, reported Daily Mirror.
"It's important for the generations to come," she said. "Diana was the people's princess, so the people should be able to see these dresses. This is our heritage, our history."
According to the auction house, another Victor Edelstein dress, a bottle-green velvet gown, was sold for ₹16.89 lakhs (£24,000), the lowest price of all the other dresses in the sale.