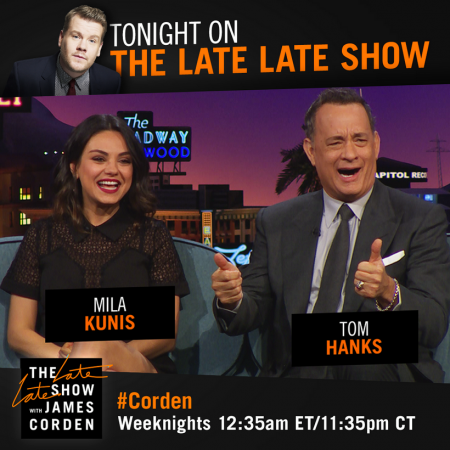 After months of guest hosts such as John Mayer and Kunal Nayyar filling in for James Corden at "The Late Late Show", the man of the hour finally took his rightful place at the host's chair, on Monday, 23 March.
The front-loaded taped piece for the premiere episode had many star cameos including Corden's "Into the Woods" co-star Meryl Streep, Jay Leno, Arnold Schwarzenegger and the CBS CEO Leslie Moonves, who handed over a golden-ticket to the new host.
Although speculations had suggested that the the boy band "One Direction" would be Corden's first guests on the show, a few hours before "Late Late Show" premiered, it was announced on the Facebook page that Mila Kunis and Tom Hanks would be guests on the premiere episode.
However, back in 8 February, one half of "One Direction" had done a spot with Corden and Reggie Watts, in time for the Grammys. In the small clip, Harry, Liam and Louis appear with Reggie and Corden, who introduced themselves as Niall and Zayne respectively (other two members of the boy band) and said that they were excited for "The Late Late Show with James Corden".
The show started with a monologue that showed much promise, but many dents. However, what started with a self-introduction turned out to be short and sweet, especially when he emotionally thanked his parents for attending the show. Corden also remembered to thank his predecessor, the beloved Craig Ferguson, who currently presents "Celebrity Name Game" and will be seen soon in the ABC Pilot for new series "The King of 7B".
What the monologue lacked, Corden made up with his engaging interview of Kunis and Hanks. James cleared up the whole misunderstanding about the "Forrest Gump" actor being the mascot for "manspreading", which is when a man spreads out and sits, leaving no room for others.
When Corden points out a particular paparazzi photo of Hanks, in which he is sitting on two seats of a subway, the two-time Academy Award winner haughtily explained, "Hey Internet, you idiot! The train was half empty... I was not manspreading. I was simply enjoying a pleasant ride on the number 2 train."
With his sneaky tactics and inquisitive humour, he may also have uncovered the best-kept secret celebrity wedding on 2015. In a brilliantly imperceptible segue from discussing parenting to marriage, Corden made Kunis admit that she and Ashton Kutcher got married away from the watchful eye of media.
The eight-minute skit, aptly titled "Every Tom Hanks Movie in 8 Minutes", also set ground for recurring bit that could grow on to become a signature part of the show. The green screen effects and rapidly changing outfits give off a vague "retro" vibe, that very well works in Corden's favour.
Although Corden's jokes did fall a few notes short and him laughing uncontrollably at his own jokes got annoying after a point, he does show a lot of potential as the host for the prestigious "The Late Late Show".
Watch out for episode 2 of "The Late Late Show with James Corden" on Tuesday, 24 March, with guests Patricia Arquette and Chris Pine. The stars of "Get Hard", Will Ferrell and Kevin Hart will be the guests for episode 3, which will be aired on Wednesday, 25 March.