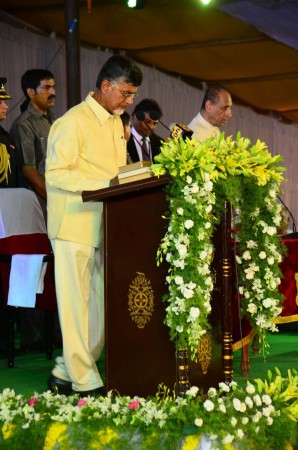 The announcement of the Vijayawada-Guntur area as the location for building a new capital city for Andhra Pradesh has resulted in skyrocketing of land prices to exorbitant levels, especially in and around Vijayawda and its suburbs.
Not just open lands, but also prices of apartments have begun to rise sharply in the city.
The land prices have increased manifold in the radius of about 15 km from Vijayawada. An acre is priced more than ₹10 crore, which is higher than the prevailing prices in the suburbs of Hyderabad, the present joint capital city of AP and Telangana.
In the centre of Vijayawada, land prices have almost been doubled to about ₹1.3 lakh per square yard in the last eight to nine months, The Economic Times reported.
Equaling to Indian metros like Bangalore and Hyderabad, builders in the suburbs of Vijayawada had priced their apartments between ₹2,500 and ₹3,500 per sq ft. But now, flats are priced at more than ₹9,000 per sq ft on par with prices of Hyderabad's posh colonies like Banjara Hills.
Expecting further boom in real estate, builders in the city are expecting more prices for their readily available apartments. "At current prices, we might not be able to afford that price anymore," said C. Shekar Reddy, managing director of CSR Estates.
However, the purchasing power of the local people has not improved, and builders in the city's outskirts are quoting even ₹4,500 per sq ft of apartments. But builders like Reddy admit that it is difficult to sell apartments at ₹2,500 per sq ft in the suburbs of the city.
It is said that when the State government favoured the Vijayawada-Guntur location to build the new capital city, several local businessmen, investors and other high net-worth individuals bought acres of land in the city suburbs at ₹5 to ₹10 lakh each, which is very cheap compared to the current rates, which is around ₹5 crore.
The State Chief Minister N Chandrababu Naidu had last week announced that the new capital city would be built between Vijayawada and Guntur. Naidu has also stated that Vijayawada, Tirupati and Visakhapatnam will be developed into mega cities and 14 other cities will be improved into smart cities.