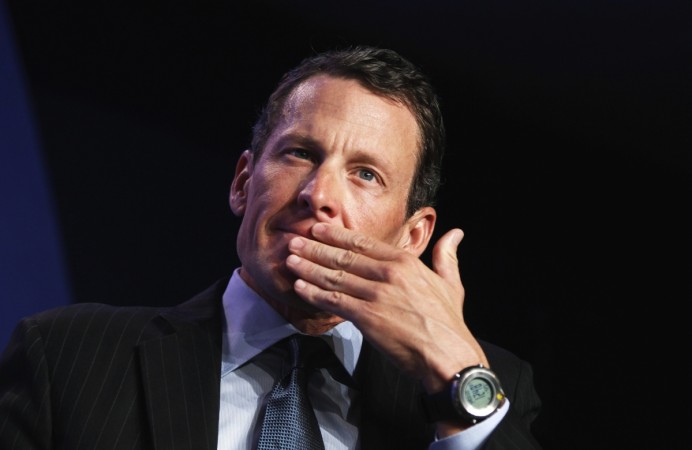 Lance Armstrong's life has turned upside down after being involved in doping scandal, which saw him being stripped of seven Tour de France titles and banned for life as well.
Armstrong is ready to get to reveal more about doping in the sport when he meets Travis Tygart, the head of the United States Anti-Doping Agency. He is no mood to shield anybody, though he is said to have revealed almost everything.
"If we don't know it by now then I missed it. If the question gets asked, I'm going to answer the question. It's not like I'm going to protect anybody. At this point?," Sky Sports quoted Armstrong as saying.
After his infamous confession about his wrongdoing in the sport in an interview with Oprah in early 2013, Armstrong has been subjected to a lot of scrutiny. Until the interview, Armstrong denied about it.
The cyclist also has a federal case pending against him, which was brought about by his team mate Floyd Landis. He has been accused of defrauding the federal government.
Talking about it, Armstrong said, "The whistleblower case is a $100m case. We would not be sitting at this table any more. We wouldn't be sitting in this home any more. We wouldn't be sitting in any home. I don't have $100m."
"In a whistleblower case you have to show real tangible harm. The Postal Service commissioned studies in 2004 that showed it made $100m. There were years when it was making upwards of $20m a year in new business, before we had even started to race. So when you start to add all these things up, here is the question: 'Where are the damages?'" added Armstrong.
Despite going through a bad time on the personal front, Armstrong is expected to return to Tour de France next month as part of a charity known as One Day Ahead, organised by former England footballer Geoff Thomas.
UCI president Brian Cookson is not happy with him, but Armstrong is unperturbed.
"Not to disrespect them [Cookson and Brailsford], but I don't care what they think. It's not about them. I mean, I don't know Brian Cookson. I've never met him, never really had a conversation with him. I don't know what his vision is for the sport," he said.
"But I do know that me and Geoff riding in France for this cause is the least of his problems. If he is making public comments – and this is as strong as I will go – he needs to be talking about other things because this sport is not in a good place for a variety of reasons," added Armstrong.