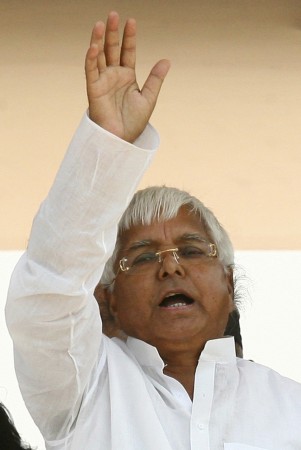 Rashtriya Janata Dal (RJD) chief Lalu Prasad Yadav has been convicted in the 17-year-old fodder scam by a special CBI court, Monday.
The former Bihar chief minister and 44 others were found guilty in the multi-crore scam that swindled nearly Rs 37. 7 crore from a larger scam that involved 950 crores to pay fake medicine bills and fodder for cattle in Bihar. The money was withdrawn from the state treasury. The quantum of punishment will be announced on 3 October through video conferencing. He has been sent to the Bisra Munda Central Jail.
"The quantum of punishment will be pronounced on October 3. Lalu Prasad and Jagannath Mishra will be given four or more than four years of punishment," CBI lawyer Arvind Kumar Singh told IBN Live.
RJD spokesperson Manoj Jha said the party would challenge the court order after their sentencing.
The BJP hailed the verdict. "It is a judgement for Bihar; it's a justice day for Bihar. It's not only a judgement for Bihar, but it is a justice day for Bihar. It is a justice day for the country against corrupt politicising," said BJP General Secretary Rajiv Pratap Rudy.
Following the judgement, Lalu will face immediate disqualification as Lok Sabha MP. A recent Supreme Court ruling stated that any MP or MLA convicted and punished for two years or more even without jail term will be disqualified from his/her respective Houses.
The SC ruling has prompted the government to issue and ordinance to oppose the order. The Bharatiya Janata Party alleged that the ordinance was issued just to protect Congressman Rashid Masood convicted in a corruption case and also Lalu for his involvement in fodder scam.
However, Congress vice-president Rahul Gandhi left his party embarrassed after declaring the ordinance as "complete nonsense" and "should be torn up and thrown away."
The fodder scam involved 56 accused. However, seven of the accused died during the course of the trial, two turned approver, one confessed to his involvement and one was discharged, reported Zee News.
Others accused involved in the multi-crore scam are former Bihar CM Jagannath Mishra, ministers from the department, two IAS officials and others.
Lalu ruled in Bihar for 15 years and had to resign as the CM in 1997 after the scam was exposed in 1996. He appointed his wife, Rabri Devi as the state's chief minister.
Who next for the RJD?
Although the verdict has come as a blow for RJD, the party maintains that there is no issue when it comes to management. "There is no leadership crisis. Senior leaders of the party will sit together and take a decision," senior RJD leader Ram Kripal Yadav told The Hindu.
Reports suggest that Lalu's wife Rabri Devi would take the reins after him. "Rabri Devi is a party's mascot, other than Laluji. Besides, decisions are always taken by the party and not by individuals," said a senior leader to Hindustan Times.
Lalu's younger son Tejaswi Yadav has been increasingly involved in politics. There are speculations that Tejaswi will be projected as the party face for the upcoming Assembly elections. But other senior party leaders seem to be discontented with the choice.
"Accepting Lalu and Rabri as leader is one thing but under their children is quite another. It is early to say if they will prove politically astute but there is certainly a leadership vacuum in the party, as of now," said another RJD leader.