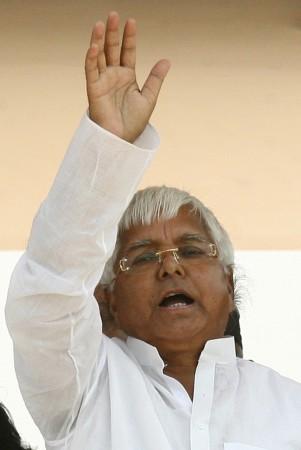 RJD Chief Lalu Prasad Yadav sustained injuries in a road accident when the windshield of his SUV cracked on Friday evening.
Yadav was sitting in the front seat of his car when the vehicle got stuck in a bridge and a sudden jerk caused the windshield to accidentally break.
Glass shards from the shield scraped the leader's head and face.
He was rushed to a private hospital where he received two stitches. He received bandage on his injuries and some test were carried out on him, said sources.
He was on his way to Raghopur in Vaishali district when the mishap occurred at around 10 pm while crossing the pantoon bridge near Kachchi Dargah,Yadav's PA Bhola Yadav told Press Trust of India.
RJD leader Shakti Yadav, who was travelling with Yadav entourage, informed Hinduatan Times, "We were unable to comprehend how this accident took place. It was so sudden."
While Rajniti Prasad, ex-MP was quick to rush Yadav to the hospital since he was travelling in another car.
The RJD chief was on his way to meet victims and families of a fire tragedy which broke out in the Roaghopur area earlier this week.
Yadav is presently said to be gearing up for the ambitious 'Parivartan Rally' which is scheduled for 15 May in Patna.