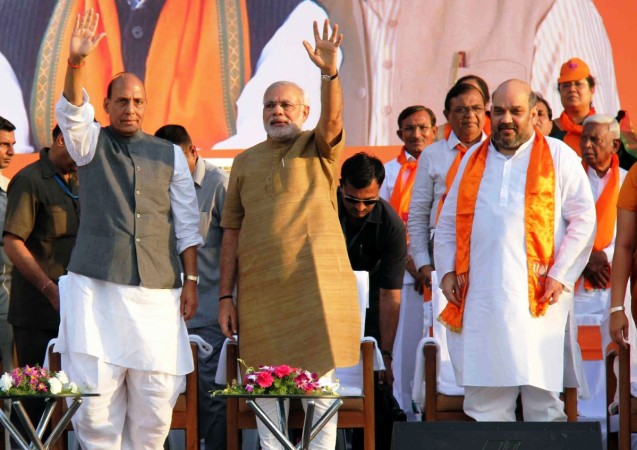 After silently standing by External Affairs Minister Sushma Swaraj on the controversy over British travel documents of former Indian Premier League (IPL) chief Lalit Modi, the BJP on Friday also backed Rajasthan Chief Minister Vasundhara Raje on the issue and ruled out her resignation as the Congress stepped up attack on the NDA government.
The development comes on the day the principal opposition party threatened to disrupt the upcoming Monsoon session of Parliament, if both Raje and Swaraj did not quit for their alleged support to the tainted former cricket administrator, who has been facing a probe by the Enforcement Directorate.
Countering the Congress attack, BJP spokesman Sudhanshu Trivedi told reporters at the party headquarters that the question of resignation of any leader did not arise. "The question is imaginary. There is no technical and legal base that you can say there is any point of impropriety," he reportedly said in reply to questions about action against Swaraj or Raje.
Apparently, the party took a firm stand after BJP president Amit Shah and Home Minister Rajnath Singh met Prime Minister Narendra Modi late on Thursday night.
Meanwhile, continuing with its attack on the ruling BJP, the Congress alleged that there was a nexus between the former IPL chief, Narendra Modi, Swaraj, Raje and Amit Shah. "We hope after Yoga Day and after Lalitasan, the prime minister will take some strong action," Congress leader Jairam Ramesh was quoted by reporters as saying.
Earlier in the day, Raje cancelled her visit to Anandpur Sahib in Punjab, where she was expected to meet Amit Shah and Rajnath Singh following Lalit Modi's admission of his proximity to the Rajasthan leader. She has been under attack over her secret witness statement supporting Modi's immigration plea in the UK.
Following reports of British MP Keith Vaz highlighting the issue by writing to Britain's head of immigration department, Swaraj had on 14 June admitted that she had helped Modi procure British travel document to travel to Portugal on humanitarian grounds.