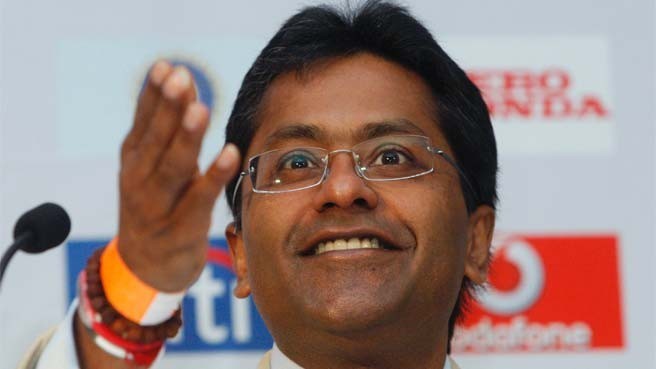 The Board of Control for Cricket in India (BCCI) has suspended the Rajasthan Cricket Association (RCA) and appointed an ad-hoc body, hours after former Indian Premier League (IPL) commissioner Lalit Modi was elected as the new RCA president.
The election results were declared by the Supreme Court-appointed observer in Jaipur on Tuesday, in which Modi received a total of 24 votes out of 33, while his opponent Rampal Sharma only got five, in the polls conducted under the supervision of former SC judge NM Kasliwal.
Modi was handed a life ban by the BCCI for "acts of series misconduct and indiscipline" in September last year. But he was allowed to contest the elections, according to the Rajasthan Sports Act that does not recognise BCCI's ban.
The Indian board had warned RCA that it would face expulsion, if Modi comes into power in the state association. After Modi's appointment, BCCI interim president Shivlal Yadav banned RCA as per Clause 32.7 of the BCCI constitution.
"The BCCI President has indefinitely suspended RCA from participating in any BCCI activity. The decision has been taken as per the constitution clause No. 32, sub-clause 7, where the president has the right to suspend an association, which doesn't conform with the rules and regulations of the BCCI. The decision was taken by interim president Shivlal Yadav," BCCI secretary Sanjay Patel said.
All key positions in the RCA elections were won by Modi's allies. Mehmood M Abdi was elected as the deputy-president, Somendra Tiwari was declared the secretary and Pawan Goyal was appointed as the treasurer.
The suspension is set to trigger another legal battle between Modi and the BCCI but Patel said the future of Rajasthan players is not in jeopardy because of the suspension as the ad-hoc committee will take care of the players' interests.
"BCCI is pro-player. Our endeavour will be to look after the cricketers from Rajasthan. We will be forming an Ad-hoc body which will run cricket in Rajasthan, taking care of the interest of the players," Patel said.
(Ed: VP)