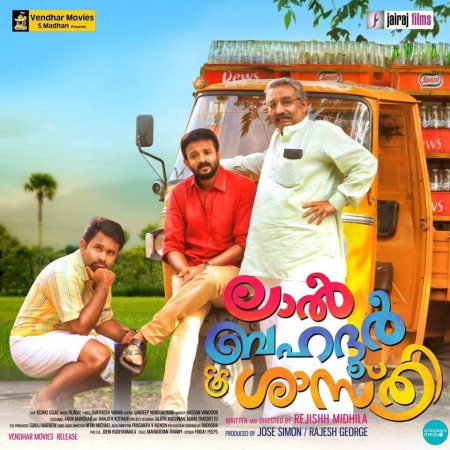 "Lal Bahadur And Shasthri" directed by debutant Rejishh Midhila has opened to positive reviews from critics. The film stars Jayasurya, Nedumudi Venu and Aju Varghese in the lead roles.
The story of the movie revolves around three strangers, Lal (Jayasurya) – a young man from Kuttanadu, who is in search of a job, Bahadur (Nedumudi Venu) – a 70-year-old man with ayoung heart and Shasthri (Aju Varghese) – an innocent farmer. They meet each other on a bus journey to Ernakulum and rest of the film talks about how these strangers influence each other.
Most of the critics have appreciated the efforts of the makers to bring out a good entertainer. The film has reportedly excelled in the technical aspects as well as in the performance of actors. Most of the critics feel that the script of the film is weak, but the director has managed to cover this with some cinematic excellence.
Meanwhile, the film has gained positive response from the audience. It looks like, "Lal Bahadur And Shasthri" is yet another small film, which is going to strike gold at Malayalam cinema box office.
Read reviews of "Lal Bahadur And Shasthri" by various critics
"Yet another small film without any tall claims makes its mark. Debutant director Rejishh Midhila's Lal Bahadur and Shasthri is a simple and honest attempt braced with simple humour and light hearted moments. Direction coming from a newcomer is noteworthy while the scripting from the same man does had its flaws especially towards the end in finishing things, an easy route was taken but that was ok in a feel good movie, we can't expect any twists and turns to make matters complex." - Movie Street
"Editing was not up to the mark as the audience where really tired of connecting scenes on their own. Cinematography by Eldho Issac was very good and as a newcomer he made a mark with his good work. Background scoring by Bijipal was good at times and the quality was uneven as it sometimes dropped to the level of irritating mixing up of instruments. Heroine of the film was a newcomer named Sandra Simon and honestly she had nothing to do in the film apart from standing here and there. The most impressive performance was came from that child artist who played the role of boy who was a lottery ticket seller. He was the real show stealer here and will go miles with his great natural acting skills. Jayasurya's son Adwaith had made his debut in this film as a character who played the Childhood of Jayasurya". - Onlookersmedia
"Though the film contains no twists or turns; it is a feel good movie flowing nicely throughout the entire running time. It is good to see a movie avoiding unexpected turning points and mass fighting scenes, to reach the audience. The animator turned director Rajesh Midhila's effort to deliver a good feel movie should be appreciated. Though not with a bang; the director/script writer made his entry nicely. He enabled a movie with nice story with a proper cast; giving a good feel to audience.The cinematography by Eldo Isaac and editing by Sandeep Nandakumar was good as the visuals are combined perfectly, with a proper camerawork; suited to story line. Though the lyrics by Santhosh Varma and music by Bijipal didn't make up to the mark, it didn't bore the audience. The background scores were absolutely brilliant, which suits every scene perfectly." - Muyals.com
"Jayasurya plays the good-hearted Lal convincingly and shines with his mannerisms and comic timings. Bahadhur is safe in Nedumudi Venu's hands. Aju Varghese's portrayal of Shasthri doesn't have anything new to offer and shows uncannible resemblance with the actor's previous characters. Mala Aarvindan and Kavitha Nair did complete justice to their roles. Sandra Simon, who played the female lead has nothing much to do in the movie; but fails to establish an effective onscreen chemistry with lead actor Jayasurya. Adwaith, Jayasurya's son makes a decent debut." - Filmbeat