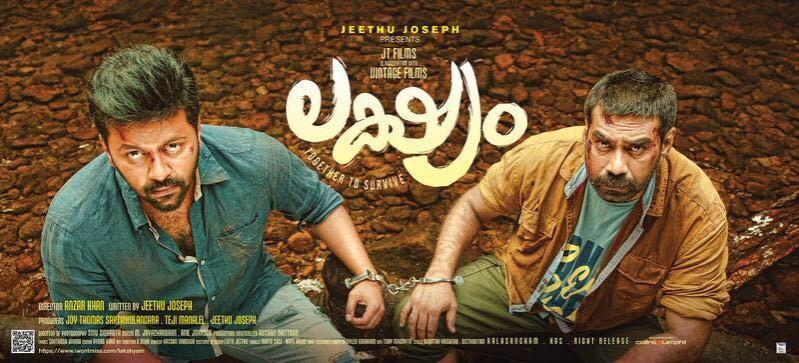 Malayalam blockbuster Drishyam has become a benchmark for Jeethu Joseph as audience often expect his movies to meet the standard of the Mohanlal-starrer. If you watch Lakshyam with this mindset, it will of course disappoint you, because Lakshyam is nowhere near Drishyam.
Check Lakshyam audience review
What is it about?
Lakshyam begins with a police jeep in which two convicts -- Vimal (Indrajith Sukumaran) and Mustafa (Biju Menon) -- are being taken to Ernakulam prison from Peerumedu sub-jail. But, they get involved in an accident near a forest.
Taking this to be an opportunity, Vimal, who is arrested in connection with the murder of his girlfriend Shalini (Sshivada), attempts to escape. But, there is one big issue. He has been handcuffed with Mustafa, who wants to surrender before police. However, the duo decides to help each other after Vimal offers a huge sum of money to Mustafa and requests to help him in finding the real killer of Shalini.
Read: 4 reasons to watch Lakshyam
Will the culprits escape from the hands of police? Who is the real killer of Shalini? Will the duo find him? Lakshyam gives an answer to all this in a thrilling way.
What stands out in Lakshyam?
Getting trapped and trying to escape from forest is a tried-and-tested theme in Indian cinema, but the thrilling storyline of Lakshyam makes it different from others. Both Indrajith and Biju's characters differ in their mannerisms, and could portray the roles quite convincingly, especially the comic one-liners by Biju keep us entertained throughout the first-half until his character gets a serious tone post interval.
Though Sshivada is a talented actress, she gets very little screen space to perform in Lakshyam. Still, the way the charming actress has portrayed the role of Shalini needs a special mention. However, Kishor Satya and Shammi Thilakan were less utilised.
This is the first time that Jeethu has written a script for another filmmaker. Though it cannot be compared with his masterpiece Drishyam, he has tried to bring a few thrilling aspects in it that stands out in the movie.
Lakshyam has one of the best interval blocks with an unexpected twist, and it is sure to raise the curiosity of the audience on what will happen next.
Technical Aspects
Anzar Khan has done a commendable job in helming Lakshyam despite being it being his directorial debut venture. Though the overall cinematography and frames are appreciative, a few long shots by cameraman Sinu Siddarth were blurred and disturbing to the eyes. Also, the makers could have avoided the bear scene that looked very kiddish. A few scenes (actors running and police following them) too looked monotonous at times.
The survival stunts in the climax scene look very natural unlike the unbelievable fight sequences we usually see in superstar movies.
The background score and natural sounds of the forest sync well with the scenes, and the song and visuals of Kaatu Vannuvo sung by Vijay Yesudas and penned by Santhosh Varma are catchy.
Final verdict
Though Lakshyam has its share of ups and down, the convincing portrayal of emotional turmoil of lead actors keep us engaged. The first-half of the thriller stands out with its humour content, while the second half has a slow pace. Watch Lakshyam without comparing it with Drishyam, not to get disappointed.
IBTimes India rating: 3