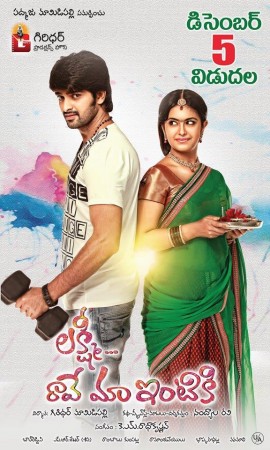 Naga Shaurya-Avika Gor's "Lakshmi Raave Maa Intiki" has received average reviews from the critics.
Directed by Nandyala Ravi, "Lakshmi Raave Maa Intiki" is a romantic entertainer with Shaurya and Gor playing the lead roles. The film also has Rao Ramesh in a pivotal role, while Sapthagiri, Vennela Kishore, Naresh and Satyam Rajesh are also part of the cast. The film is produced by Giridhar Mamidipally.
Shaurya's last two releases "Oohalu Gusagusalade" and "Dikkulu Choodaku Ramayya" have performed well at the box office. It remains to be seen if the actor will be able to hit a hat-trick with "Lakshmi Raave Maa Intiki."
Plot: Sai (Naga Shourya) sees Lakshmi (Avika Gor) and falls in love with her. When he proposes to her, she reveals that she is engaged to person of her father's choice. What happens next forms the crux of the story.
Critics have stated that the first half of the film is entertaining while the second half moves at a slow pace. Shaurya and Gor's performances, dialogues and cinematography are the major plus points of the film. Lack of pace in the second half and editing are the minus points of the film, according to the critics.
Check below the review roundup of "Lakshmi Raave Maa Intiki" (LRMI):
"'Lakshmi Raave Ma Intiki' is just an below average entertainer which is good only in bits and pieces. The entertaining first half, energetic performances of Naga Shourya and Avika Gor are the major plus points. On the flip side, a slow paced second half and a flat climax spoil the fun completely," according to 123telugu.
"Director Nandhyala Ravi choose an universal plot to cater to wider section of audience. He, however, failed to maintain the required pace in the narration in the latter half though the first half is entertaining. The only saving grace of 'Lakshmi Raave Maa Intiki' were Naga Shaurya's performance and highly impressive dialogues," stated AP Today.
"K Radhakrishna's music is pretty decent but background could have been better. Cinematography is neat. Editing isn't upto the mark in second half. Production values are good," according to the website.
"The first half of the film is fine as it is even though that is a very routine and formulaic one. It is the second half that needs further work done on it. The way in which heroine and hero get together clearly needed more time on writing or at least a far better execution than it currently has," according to Siddhartha of mirchi9 website.
"Lakshmi Raave Maa Intiki doesn't deliver what it promises to. The film is just set against the backdrop of Bommarillu, Oosaravelli, Ganesh, Arjun etc. Although the film is a love story, the romantic tracks are not moving. Because of this, the audience doesn't root for the lovers to unite and they also don't feel sorry when someone dies," according to AP Herald.