Fusion of enchanting vintage weave styles and Hindustani classical music will add charm to the presentation at Lakme Fashion Week Winter/Festive 2014 this time. Weaves revivalist Gaurang Shah will present his latest collection "Chitr-Sena" with live music by renowned Hindustani Classical Singer Shubha Mudgal, on 22 August in Mumbai.
"Chitr-Sena" is like prose from Indian epics, wandering into the wild and exploring the future!" announced Gaurang Shah in his statement. It will comprise of unique collection of folklore and fables that lyrically blends the 16th century temple art and the 21st century modern artist.
The weaves in kanchipuram, beautifully blended with hand weaves, traditional designs and modern artistry, would be presented with different twist in colours and textures. Gaurang stated that "Chitr-Sena" revives the art of korvai weaving of kanchipuram, narrating stories of the wild woven with modern day textures and colours.
Every garment would narrate a story from the Indian culture and mythology. The dhotis and sherwanis are created from the finest silk tailored to perfection with zardosi embroidered wildlife will dazzle one.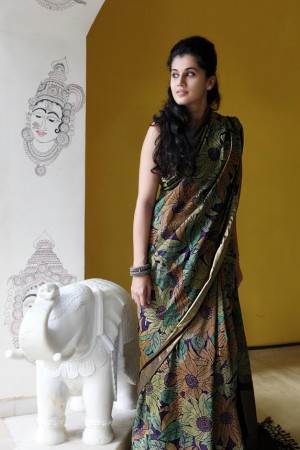 The unique colour combinations in "Chitr-Sena "will consist of tantubha-yellow, zyama-blue, hasti-green, ayasa- grey and kasaya-brown combined with ahead of its time colours like sutara-yellow, succhaya- pink, suka-green and uditi- orange.
"I look forward greatly to an absorbing fusion of enchanting Vintage Weave Styles and Hindustani Classical Music and [I] am delighted to be a part of this beautiful fashion-music collaboration", said Shubha Mudgal.
"Chitr-Sena" features traditional motifs garuda, rudraksh, hamsa, shikarga,sher, bhagha, haathi, morni,and shikariare woven in kanchipuram silk dupattas and sarees in a distinctive fashion. Silhouettes in the collections are inspired from Afghani history,Lakme Fashion Week:
Designer Gaurang Shah to present 'Chitr-Sena' Line with Shubha Mudgal
resembling flowy-Ghaghras, Anarkalis, Ghararas, embroidered with fables in zardosi and badla and many more.