The ever-cheerful and charming model-turned-actress Taapsee Pannu is all set to walk the ramp for Gaurang Shah at the Lakme Fashion Week Winter Fest 2014 as his showstopper.
The actress, who has a long-lasting association with Shah, said that she was waiting for a chance to work for the designer and walking the ramp for him at Lakme Fashion Week is very special as she would do modelling for someone she admires a lot.
"I love Gaurang's work and admire his weaves", Pannu said, adding, "I follow his collections and I have done lot of photo shoots for his line of hand-woven saris and outfits. I love his innovations in Lehengas, anarkalis which are outstanding. They are very intricate and have great details...His collections give me a royal feeling."
She expressed her happiness on social media as well, by posting 11 photos of her modelling some of Shah's creations on her FaceBook page on 19 August along with the comment: "Happy and proud to be your showstopper at Lakme Fashion Week festive collection this year #Gaurang."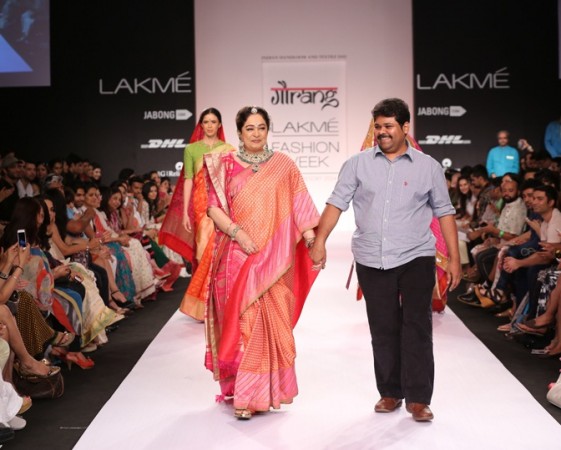 "What she will be wearing is specially woven with modern day textures and will reflect the essence of my presentation for this winter fest," says Gaurang, who was ecstatic about finding the perfect showstopper in Pannu.
The self-taught designer, who learnt his trade at his family store, discloses that it took months for his team to create "Chitr-sena" for the showstopper Panna.
"Chitr-Sena" is a collection of fables and folklore that aesthetically blends the 16th century temple art with the 21st century modern artist.
"Watch us unveil, Chitr-sena, the fables from the ancient Indian fashion at Lakme Fashion Week Winter/Festive 2014 in Mumbai on August 22 at 3:30pm. #gaurang #lakmefashionweek" was posted on Gaurang clothes shop on 8 August.
Each year, Shah introduces hand-woven fashion collection that reflects the culture and the beautiful artistic traditions from different parts of India. This year's "Chitr-Sena" revives the art of Korvai weaving, which is popular in Kachipuram. and each garment would narrate a story from Indian mythology.
"Chitr-Sena" also hopes to surprise the audience with some unique colour twists, such as combination of military colours like tantubha-yellow and zyama-blue with colours like sutara-yellow, succhaya- pink, suka-green and uditi- orange.
Shah carved a niche in the fashion industry by designing saris that personify elegance as well as captivate the beauty of traditional handlooms and weaves.
Shah is a strong supporter of the weaver communities and his brand "GAURANG" supports over 500 weavers across India. To visit his site, click here.
Lakme Fashion Week Winter 2014 will be held at the Palladium Hotel in Mumbai from 20 to 24 August.