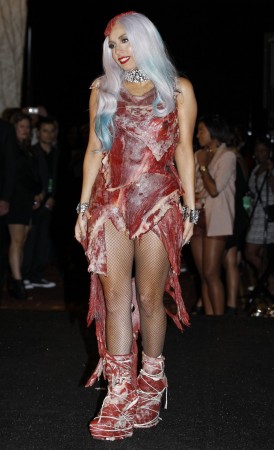 Popstar Lady Gaga, known for her weird dressing sense and outrageous makeup, has stunned fans by posting a photo of herself without any makeup in a website.
The 27-year-old "Born This Way" singer looks pale in the make-up free photo she posted on the official fan website Littlemonsters. She looks thinner with her collar bones popping out of her off-shoulder white T-shirt.
"ARTPOP as they pry the single from my bleeding fingers. it's a scary thing to revisit those things underneath, the pain in your past. but all I found was raw passion. I thought I was destroyed inside. I'm just ready to fight. start the music," she wrote on the site along with the make-up free photo.
It may be recalled that the "Poker Face" singer was known for her bizzare fashion sense, including the ones she called bubbles, fish nets, boob sparklers and by other such names. She hit the headlines a few years ago when she attended the MTV Video Music Awards in a dress made of raw meat drawing criticism from several quarters.
Interestingly, Lady Gaga looks glamorous in the alleged leaked promotional video of her new studio album - "ARTPOP" which has hit the internet. She is seen licking the hand of a strange creature and wears a seductive look in the 23-second video. The album is scheduled for a release in November.
Lady Gaga has also stripped naked in what could be her raunchiest photoshoot ever, for the September issue of US fashion magazine V. She is seen sitting naked on a stool with her legs spreading wide and her hands covering her modesty. She looks quite remarkable in the photo, which could come as a surprise considering that she had undergone a hip surgery a few months ago.