Lady Gaga has never been one for conventions; be it her style, her songs, her fans or her attitude. Now, Gaga is proving how unique she is by reportedly planning to wed her beau Taylor Kinney in space.
The Poker Face hit-maker and Chicago Fire star Taylor Kinney has been dating since 2011 and though the couple has managed to escape from paparazzo's persuasive lenses, they appear to have a very affectionate relationship.
Another amazing birthday moment. I love surprises! pic.twitter.com/kNmbEhVKkc

— Lady Gaga (@ladygaga) March 29, 2014
Lady Gaga was requested to perform at the Sir Richard Branson's Virgin Galactic flight, the first commercial flight to space, set to blast off in early 2015. The break-of-the-dawn performace by Gaga, would certainly ensure her a ticket-free entry to the flight, which would otherwise cost a solid $250,000.
"#GagaInSpace2015" announced the Mother Monster on Twitter on 6 Novermber 2013.
Other stars who signed up for the historic trip include Ashton Kutcher, Brad Pitt, Angelina Jolie and Katy Perry. Leonardo DiCaprio will go with 37-year-old Russian real estate mogul Vasily Klyukin, who won the ticket at a charity auction held in Cannes, France on May 23, reported the Huffington Post.
Lady Gaga, however, wants to take one step further, she wants to exchange her "I do"s in zero gravity.
"Gaga and Taylor want to make a pledge for life, and think the space flight is too big an opportunity to pass up. It would be typical of her to have the least conventional 'wedding' ever," a source told Daily Star.
The source also revealed that the wedding would be "a simulated-style marriage" owing to the lack of a religious figure. "They don't care about convention; it's more about making each other a life-long promise."
Speculations about the Mother Monster and 33 year old Kinney's wedding began when what was rumoured to be wedding ring was spotted on Kinney's finger in a photo posted by Lady Gaga on Instagram.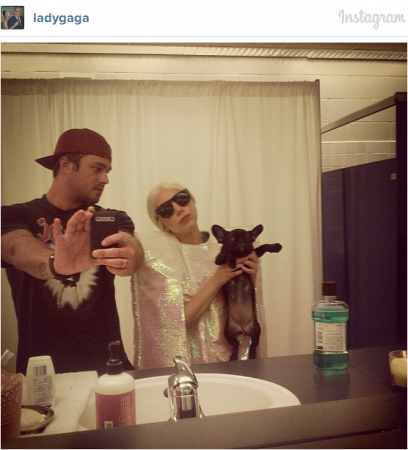 It gained momentum especially after MTV posted photos of the former shopping for vintage wedding gowns in Toronto with her mother. In 2012, when the couple got "fake married" for the video of Gaga's "You and I" too, fans went crazy.
If all goes well, the epic wedding will take place, along with Gaga's first performace in space.
Gaga has shown much excitement about the opportunity; "Performing in space is such an honour. I want to challenge myself to come up with something that will not only bring everyone together but will also have a message of love that blasts into the beyond," she said.
The 28-year-old's space concert would be broadcast to the Zero G Colony high-tech musical festival, a three-day hi-tech festival set to take place at Spaceport America in New Mexico, on its third day.
Meanwhile, Gaga will have to prepare her body and vocals to get accustomed to the atmospheric pressure in space, a month prior to the trip.