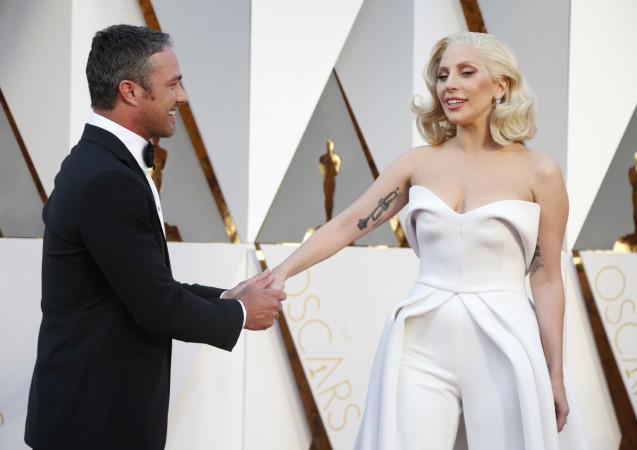 Lady Gaga celebrates her 30th birthday Monday, March 28, 2016. From some amazing performances to greatest moments, the "America Horror Story" star has had an epic year. Clearly, the singer had enough reasons to ring in her birthday with a big bash.
The pop star known for her whacky sense of fashion decided to get started with her birthday celebrations a bit earlier and she threw a big bash at the No Name club in Hollywood, last Saturday. E! reported that the "Bad Romance" singer had a blast at her 30th birthday party, which was attended by her fiancé Taylor Kinney and celebrity friends including Taylor Swift, Kate Hudson, Nick Jonas, Suki Waterhouse, Lorde, John Legend, Lana Del Rey, Pharrell Williams and Kylie Minogue among others.
Take a look back at the year gone by and you would agree that Gaga has had an amazing 29th year both professionally and personally. While Gaga is busy working on her fifth studio album, she managed to put up some great performances that included singing the National Anthem at Super Bowl 50, paying tribute to David Bowie at the Grammys and last, but not the least, the emotional rendition of her ballad "Til It Happens to You" at the Oscars.
Not just this, the singer also proved to be a fabulous actress with her acting skills in "American Horror Story," which actually helped her win her very first Golden Globe for playing The Countess.
On her birthday, we decided to compile a list of some interesting facts about this singer-turned-actress.
- The singer's stage name Lady Gaga is actually a result of a texting error. Rob Fusari typed "Radio Ga Ga" in a text and it did an auto correct so somehow "Radio" got changed to "Lady," and Stefani became Lady Gaga.
- Lady Gaga's favourite cartoon character is Bugs Bunny.
- She is attracted to both men and women.
- She taught herself to play the piano when she was just four-years-old and started composing original ballads when she was 13.
- Gaga dropped out of New York University when she was 19 to pursue her music career.
- She loves to cook and is good at cooking Italian food.
- She has four entries in the Guinness World Records.
The best way to celebrate Lady Gaga's birthday would be to get grooving to some of her best songs.
- Bad Romance
- Poker Face
- Alejandro
- Born this Way
- Judas
- Just Dance
- Love Game
- The Edge of Glory
- Do What You Want
- Applause