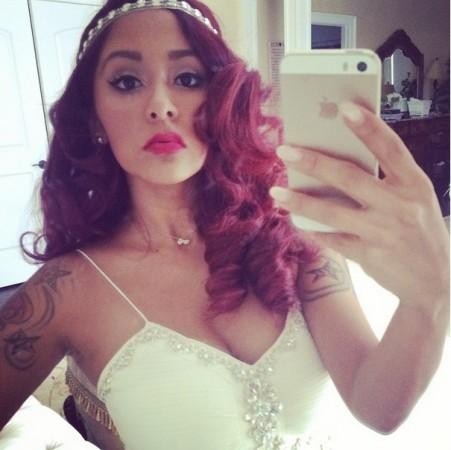 Most people still remember Snooki as the pickle-loving, hard-partying, booze-swilling member of the "Jersey Shore". But she has done a lot of growing up since the wrapping up of the reality show.
Nicole Polizzi, is now a health-conscious mother of two, who is about to get hitched to her long-time partner and the father of her children, Jionni LaValle.
While Snooki is busy planning her wedding, her "Jersey Shore" family is by her side to help her out with anything ranging from cold feet to wedding gown alterations. The ladies of "Jersey Shore" had a mini reunion for Polizzi's wedding rehearsal dinner over the weekend.
Jenni "JWoww" Farley, Deena Cortese and Sammi "Sweatheart" GIancola, all looked elegant in their costumes for the '20s-themed' rehearsal dinner in the Garden State. The reality star, who also celebrated her 27th birthday on Sunday, looked stunning in a flowing white gown next to her bridesmaids who looked equally gorgeous in black.
"At rehearsal with my girlies!!!! ❤️ @jennijwowwmtv @deenanicolemtv @sammisweetheart," the wife-to-be, captioned an adorable selfie of the four "Jersey Shore" girls sporting "duck-faces".
Jenni Farley could not refrain from gushing over the Jersey Shore reunion on Twitter. She posted, "Love my girls @snooki @sammisweetheart @deenanicolemtv".
Even Deena Cortese took to Twitter to express her happiness over the wedding of fellow "meatball": "Can't believe my meatball is getting married in a week!!!!! #sisters #fam #nicolesgettingmarried!..."
The former "Dancing with the Stars" participant has been keeping all her fans in loop via regular updates on her blog. It was in the blog that she announced her fiancé Jionni and she went to get their marriage licence and that the theme of her rehearsal dinner was "The Great Gatsby".
"I designed my rehearsal dinner dress with the designer of my Snooki Love collection, Jason Kim!! My hair was also 1920s style and I set my curls just the way my stylist Bradley Moreland & Louie Lou taught me!! Hope I made them proud with my hair! Check out the gallery of pics with my friends and family, maid of honor, beautiful kids and of course my Jersey Shore ex-roomies! Xoxoxox," Polizzi posted.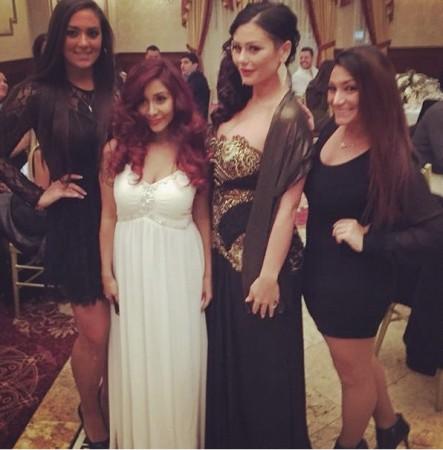 As the day of her wedding approaches, Snooki is evidently getting excited and took to Twitter to express her happiness over the same: "Figuring out how I want to walk down the aisle... http://bit.ly/1rkljb8 So excited to be getting married to the man of my dreams!! ❤️❤️"